CRM has evolved into more than anything that we could have envisioned when first conceptualized. Having a robust yet efficient CRM system is steadily becoming standard practice across the board. In a dynamically evolving and ever-growing organization a relationship management platform becomes crucial if attempting to remain competitive. In-line with this trend, 30% of high-performing small business service teams are already using predictive analytics. Let us examine some of the important advantages of opting for augmenting your business with the CRM system:

The
Salesforce in a small business
Successfully managing customer interactions is one of the most important works of a platform like Salesforce CRM. By necessity, as a startup grows, its list of clientele grows right along with it. It soon becomes difficult to keep track of all the elements of the business manually. A well-designed CRM system will keep track of all pertinent data needed for a business to succeed. Salesforce for Startups surfaces actionable client data that scales as your business and client portfolio grows. It allows you to analyse and report on this data so you can gain insight into relevant client information.
Managing the various repetitive and time-consuming aspects of a business such as the forwarding of client receipt or the follow-up on offered services is a major part of Salesforce CRM which frees up valuable resources to devote to growing your business.

When considering the fast-pace of today's world, supporting multiple platforms and devices has become ubiquitously cross-industry. A CRM system helps keep track of this, and with mobile apps like Salesforce1, not only can employees pool their contacts and details into a single platform, the workload can be configured on the go both as and when needed through the integration of a cloud platform.
A central management structure is very lucrative, but difficult to implement manually. This is because while organizations may appear to be under a central governance, the true power resides with individual workers. Having software like the Salesforce CRM system in place makes this a much more manageable task as everything is automated and accessible when and where you need it.
Salesforce CRM system is fully scalable. As your business grows, so does your need for additional resources. Salesforce CRM system matches pace with the needs of your organization as it continues to expand.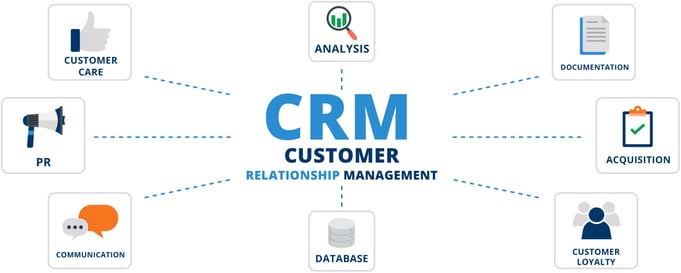 CRM in various facets of a small business
CRM: An Idea That Strives for More
The term CRM is not just another initialism shortening the phrase Customer Relationship Management. Instead, think of it as a complete shift in how you approach your business; a holistic initiative for growth. For example, say that there are multiple firms becoming stagnant at similar stages in their growth. Their efforts have not waned, but rather, they are continually focused on the same routine. A CRM platform helps break this monotonously hazardous routine by identifying constantly recurring patterns and implementing solutions to optimize workflow. CRM is more of a philosophy that connects the various element of an organization. From the management of the customer relations to the actual pairing of the customer accounts to the people working them; it brings everyone a little closer together. This adds a level of engagement previously unseen which can give a unique edge to your organization's approach putting you on the path to success.
Integrating customer data onto a single platform helps you to understand your customer journey more fully and is core to the CRM philosophy - Salesforce for Startups can help identify and capitalise on opportunities for cross-­selling, and create personalised offerings of products and services for each individual.

ROI chart for a small business using CRM
Using the CRM system for Organizational Growth
From sorting through emails and forwarding them efficiently, to the automatic management of the database associated with every client, a CRM system is essential for an organization to grow and maintain efficiency. No matter which sector the deploying company belongs to, platforms like Salesforce CRM help maximize efficiency on a scale that would be impossible to attain without. Since all data is centralized and always up to date new employees can pick up and work right where it was left off. Additionally, with a middle layer of an application, the clients in an organization can directly work together with the staff, helping shorten the communication gap and minimize any pieces of the conversation being lost. Excelling in these tasks is why Salesforce is considered the Best CRM Software for Small Business.
Small and medium business success using Salesforce
Need help with deciding which CRM is right for your company? Contact our consultants and we will work with you to devise the perfect integration strategy, approach, and plan that will work with your budget and current infrastructure.