Functionality, ease of use and affordability are all imperative when considering the ideal fundraising software
Nonprofits need effective fundraising campaigns to increase donations, diversify support received from existing donors and volunteers or to fundraise from prospects within the organizations identified target audience.
Geared with the ability to create and customize fundraising campaigns, customer relationship management (CRM) software has become an increasingly popular fundraising tool for nonprofits to raise donations from individuals, corporate partners, institutions, trusts and foundations.
Successful fundraisers share common approaches
One reason that contributes to the increase in its popularity is the fundraising effectiveness attributed to the use of CRM. Although the presence of technology doesn't inherently guarantee increased revenue, a study by Find Accounting Software and the Association of Fundraising Professionals found that there is a definite technological profile of a successful fundraiser and Salesforce Nonprofit Cloud is an integral part of that profile.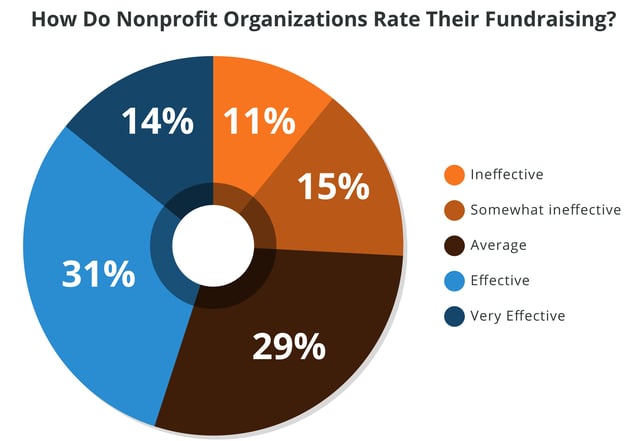 A CRM system that goes beyond basic recording to provide digital tools for nonprofit organizations across donor development and volunteer management, grant management and event planning enables nonprofits to increase the relevance in their fundraising communications to donors and prospective supporters which works to improve conversion rates and establish regular giving. Raise more with keen AI-driven insights on donors using Salesforce Nonprofit Cloud.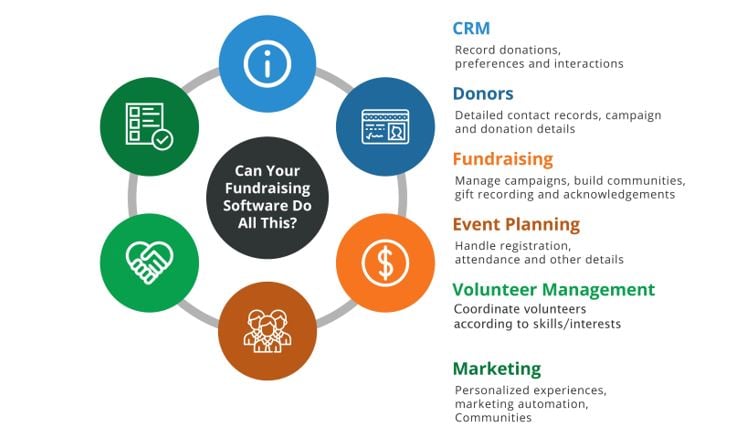 Fundraising campaign management is a major component of nonprofit CRM management. Regardless of CRM standardized components, here is the list of essential characteristics to require in a fundraising software for nonprofits:
Evaluating price and finding the right partnership
Price is an important factor to consider when implementing a software solution, along with ongoing licensing and maintenance considerations. The good news is that there are solutions out there which offer a more affordable option for nonprofit organizations, as is the case with Salesforce for Nonprofits, and includes all the same functionality as the commercial version.
Finding the right partner to guide you through the set-up and implementation of your chosen solution is part of the decision-making process. These organizations will help with the smooth implementation of the CRM system, data transfer, staff training as well as busy themselves tailoring and extending functionality to your nonprofit's specific needs. This will ensure your charity can get the most out of the offering you choose.
A high degree of automation
CRM plays an important role in improving business processes for fundraising, one of which being the banishment of the diabolically ubiquitous and even harder to manage multiple-spreadsheet system in favor of a polished and integrated system that everyone can access.
Automation not only simplifies processes, but it also reduces the unnecessary costs common to charities. Back-office tasks that create significant overheads can be automated such as: donation importing, gift receipting, and foundation giving management.
Automation through the adoption of cloud-based technology has been seen to cut operating costs by 20% according to 64% of nonprofit CFOs.
Automation, for example, enables nonprofits programs' staff to streamline grant prospecting, management and reporting while the fundraising team can tailor messages to donors' lifecycle stage. Salesforce solution for Nonprofits helps you to run your organization better and engage more directly with constituents.
Robust Functionality
According to a 2015 Software Advice Research Report, the need for greater functionality is the top driver for current fundraising software users to replace their current nonprofit software. This is followed with ease of use.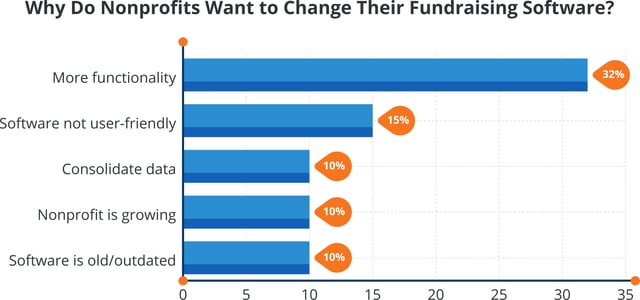 Nonprofit fundraising is all about connecting people to do good. You need to consider the benefits you can gain through a mobile accessible platform that offers opportunities for building a community whether this is for crowd funding, volunteer management, service delivery or to connect beneficiaries and donors. If your answer to this is 'yes' then this functionality is also something you need to consider when selecting the right fundraising software.
Among the components that makes up a CRM for nonprofit, constituent and donor tracking is the most critical functionality with almost 72% of respondents confirming its importance. Constituent tracking helps nonprofits maintain contact records and important information about donors, their giving history and preferences. Given this, when buying CRM, checking for the capabilities and flexibilities of constituent tracking is critical.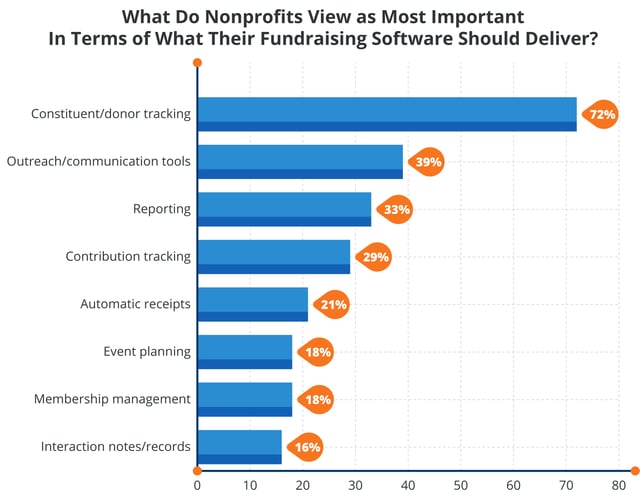 Reports and Analytics
Two out of three nonprofits are not using data when crafting fundraising strategies. Donor and campaign insights are useful to charity managers in making sound decisions. When the right software information is integrated and consolidated, managers are afforded a holistic view of the process. The right system will help you track and measure impact over time, for instance, Salesforce Nonprofit Success Pack (NPSP).
Ensuring that the fundraising software you choose for your nonprofit has the required reports and analytics in place is essential for maximizing ROI on campaigns, identifying profitable donors, and discovering new opportunities for development.
Conclusion
With real-time reports and analytics, data available in one place, available at any time, you can expand your reach and uncover new opportunities with analytics through the power of Salesforce Nonprofit Cloud. Salesforce Nonprofit Success Pack (NPSP) integrates constituent data with AI-powered donor insights enabling you to drive your mission forward. Need help deciding if Salesforce Nonprofit Cloud aligns with your mission? Contact our consultants and we will work with you to devise the perfect integration strategy, approach, and plan that will work with your budget and current infrastructure.