What is Salesforce for Nonprofits?
Salesforce is a customer relationship management application which allows organizations to effectively manage their relations with their stakeholders. In the case of nonprofits these include individual, government and corporate donors, clients and beneficiaries, employees and volunteers.
Using Salesforce for nonprofits charities can monitor and synchronize all data relevant to their interactions with these stakeholders across the entire organization to maximize:
Their charitable income
Program effectiveness
Resource allocation
Savings on associated costs
Available at a special rate for nonprofits, yet with all the features, Salesforce software enables the different departments of a nonprofit to coordinate, communicate and share vital data that will help them achieve the programs and fundraising objectives of their organization.

How Can Nonprofits Use Salesforce?
Nonprofit organizations are initiatives created to help members achieve certain goals that are not profit-oriented. To achieve these goals, they need well-defined communication channels to make internal and external collaboration easy.
Nonprofit organizations can access Salesforce through a charity concession in the form of its Nonprofit Success Pack. Nonprofits can be both large and small and therefore essential that each system is tailored to each's unique requirements.
By working with a partner, nonprofits will deploy a purpose-built system much quicker, as a partner excels at extending the already vast capabilities of the software offering as well as focusing on the time-consuming and resource heavy tasks of integration and data migration. This will ensure that the software is tooled around the requirements of an individual nonprofit organization and is not a one-size-fits-all approach. This frees up the nonprofit's team, allowing them to spend more time focusing on gaining insights, developing stronger communities and delivering impact with the aid of the expert tailored CRM Solution.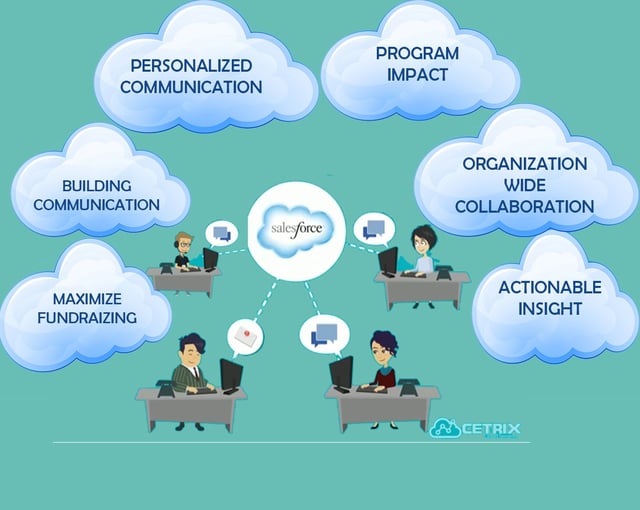 Salesforce helps nonprofit organizations track and act on important data in channels like emails, Google Ad's, social media, instant messages and calls. When different departments can access the information, they have a snapshot of all aspects of the nonprofit's relationship with all its stakeholders and can make accurate, up-to-date, and tracked decisions. You'll also find that by using Salesforce Nonprofit Cloud it will help accelerate fundraising, measure and manage programs, and increase engagement.
They can use this information to serve donors, volunteers and service users better by planning work shifts, managing campaigns and donations and planning events more efficiently. Without this, the information would be scattered across multiple platforms and departments and would result in time-consuming information retrieval work straining an already very limited pool of resources.
How to Get the Most Out of Salesforce
2. Collaborate from anywhere with Integrated Data
The main purpose of Salesforce is to ensure connectivity between internal and external aspects of the nonprofit business. In doing so, it unifies the various stakeholders (partners, volunteers, clients and employees) through an accessible, mobile platform.
This ensures an optimal use of data, automation, analytics and nonprofit tools which are part of the platform to deliver more personalized services and more meaningful fundraising communications. The more persistent brand-presence will strengthen relationships, nurturing donors to become repeat patrons and provide more significant gifts, as well as increase efficiency in service delivery and program reporting. The Nonprofit Success Pack (NPSP) helps you to manage your relationships, fundraising, and reporting. It is an out-of-the box solution that is designed for your needs and helps you get the most out of Salesforce.
Donor acquisition, retention and cross-team collaboration have all been cited as major challenges for charities. Nonprofits can use Salesforce to personalize their donor communications and build an ongoing relationship across all channels with a single unified-platform through which employees from all departments can share and access information allowing them to partner and achieve consistent messaging and improve outcomes.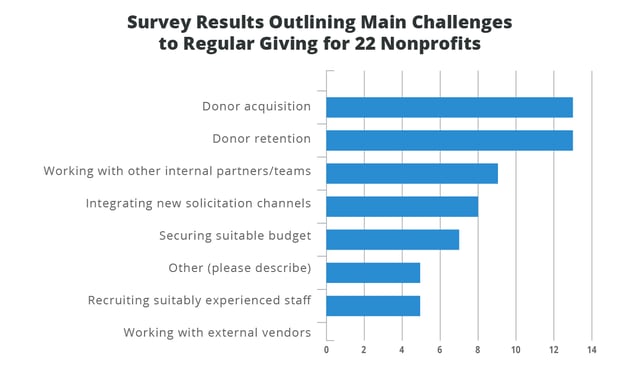 3. Optimize the use of social media
Many nonprofit organizations are venturing to social media to reach out to the masses for advocacy, crowdfunding and service delivery. People can feel ignored if you are not attentive to their needs in these digital spaces. Salesforce for nonprofits lets charities install social media apps so that staff can interact with people from all social media using one platform to monitor, engage and collaborate with individuals wherever they are in the online world. Salesforce Nonprofit Cloud helps achieve personalised engagement over social and email.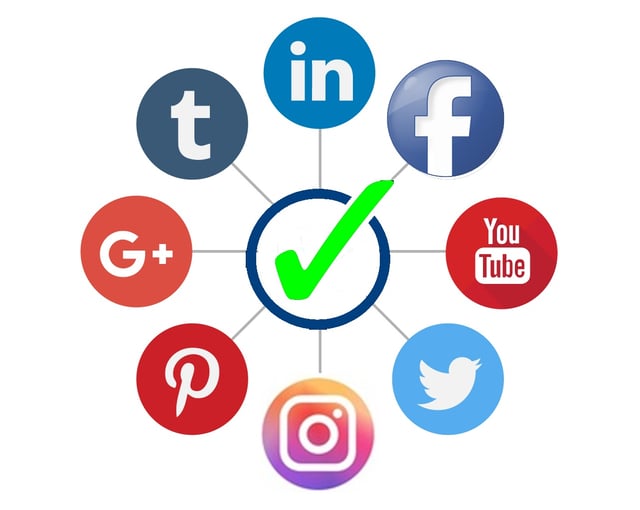 4. Monitor Interactions to Improve Performance
Tracking interactions with Salesforce gives nonprofit employees instant insight into the entire organization. Salesforce for nonprofits deploys analytics which display a wide-variety of data dashboards. With these dashboards, managers and key staff can easily scrutinize data, view revenue funnels to make tactical decisions on what opportunities to explore, and what resources to tap for fully realizing organizational strategic objectives.
Overview
Learning how to use Salesforce effectively empowers nonprofits to maximize the potential of the newly implemented system. Finding the right partner to assist in implementation is important for the nonprofit to be able to mold Salesforce around their organizations unique needs.
Salesforce is not just a tool for fundraising development but can and should be applied across the entire organization. This is to create, process, store, retrieve, update and analyze data from different sources and make it available to stakeholders. It will improve the quality of lead generation, volunteer management, and program delivery for better outcomes.
With real-time reports and analytics, data available in one place, available at any time, you can expand your reach and uncover new opportunities with analytics through the power of Salesforce Nonprofit Cloud. Salesforce Nonprofit Success Pack (NPSP) integrates constituent data with AI-powered donor insights enabling you to drive your mission forward.
Need help deciding if Salesforce Nonprofit Cloud aligns with your mission? Contact our consultants and we will work with you to devise the perfect integration strategy, approach, and plan that will work with your budget and current infrastructure.