Retail banking trends in customer relationship management
Regulatory and competitive pressures within the retail banking industry as well as increasing customer expectations means that banks have had to find new more efficient ways to manage leads and prospects. Customer Relationship Management (CRM) trends in banking for retail customers are aimed at strengthening customer relationships, improving the retention of customer's patronage and loyalty.
Looking at banking trends, the top four core drivers that lead to customer satisfaction are trustworthiness, employee competence, excellence in rendering customer services, and ease of doing business (Accenture, 2016).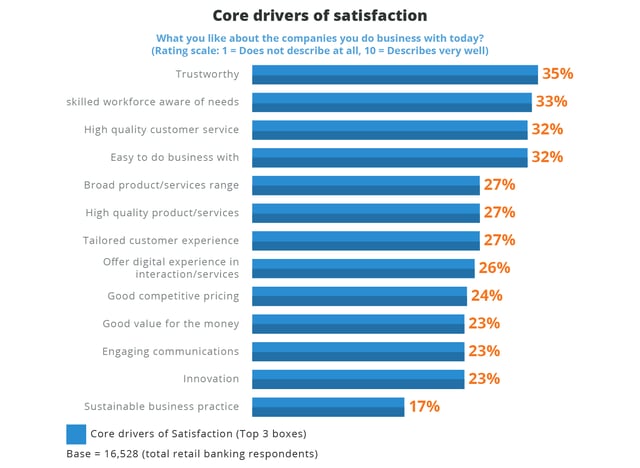 To meet the need for drastic improvement and achieve high performance in drivers of customer satisfaction amongst retail banking customers, noteworthy CRM retail banking trends include:
Empowering retail banking customers with real-time information
One of the most appreciated features of a CRM platform for retail banking is its capacity to provide real-time information and empower customers to decide conveniently and reliably on their financial matters. In effect, this boosts customer engagement with banking firms. Customers who are fully engaged bring 37% more annual revenue to their primary bank compared to their disengaged counterparts.
A survey conducted with 4,600 Salesforce customers into how much its CRM system providing real-time information improves business performance revealed:
Response times halved
Collaboration doubled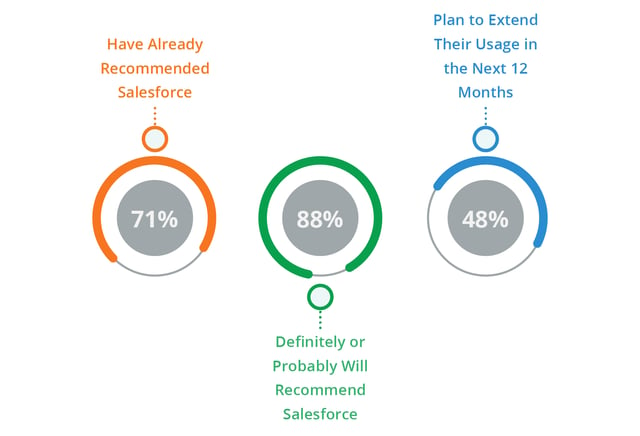 Satisfaction levels amongst Salesforce customers was high with 71% having already recommended it as a CRM solution.
Improvements in employee ability to resolve problems and and decision-making times using Salesforce improved by 49% and 48% respectively.



Easy to use CRM for banking customer engagement
Customer loyalty which fuels significant growth in retail banking can only be established through consistent delivery of exceptional customer experience. Online, customer experience remains the most crucial component in the conduct of banking business. A report from Inside CRM identified ease of use as the most demanded CRM feature (65%).
With Salesforce Financial Services Cloud, it's easy to deliver effortless engagements that customers love, in real time and across any device.
Understanding individual needs for personalized banking
Banking is considered one of the most highly disrupted industries by digital technologies in recent years. Intense competition amongst banks has made retention of existing customers a struggle.
One of the proven ways to cut through the edge of intense competition in the financial sector is to better understand customers and provide personalized services or revitalized offerings around their needs and ensuring time appropriate communications around these.
Advanced CRM systems, such as Salesforce, provide historical and demographic insights that are being used to develop differentiated products and services and automate timely communications targeted at specific customers. Salesforce Financial Services CRM affords a 360 degree view of top customers at both a personal and business level. This ensures the conversation you're having with them meets all their needs and engages them in the way they want.
In addition, the trend in more personal relationships that CRM solutions are making possible in the banking sector is developing existing clients into a source of increased sales and referrals for retail banking products.
CRM for banks is facilitating collaboration
One of the emerging trends in CRM in banks is unlocking the capacity for collaboration, through communities. Retail banks like Lloyds Bank are integrating their CRM system with their website to give customers, partners, and employees the ability to chat and collaborate through exchanges in information.
Mobility is giving banks the ability to truly partner with their customers. With access to banking services and support on-the-go, customers are finding that they can take their personal banker with them and access the support they need online via smartphone or tablet 24/7.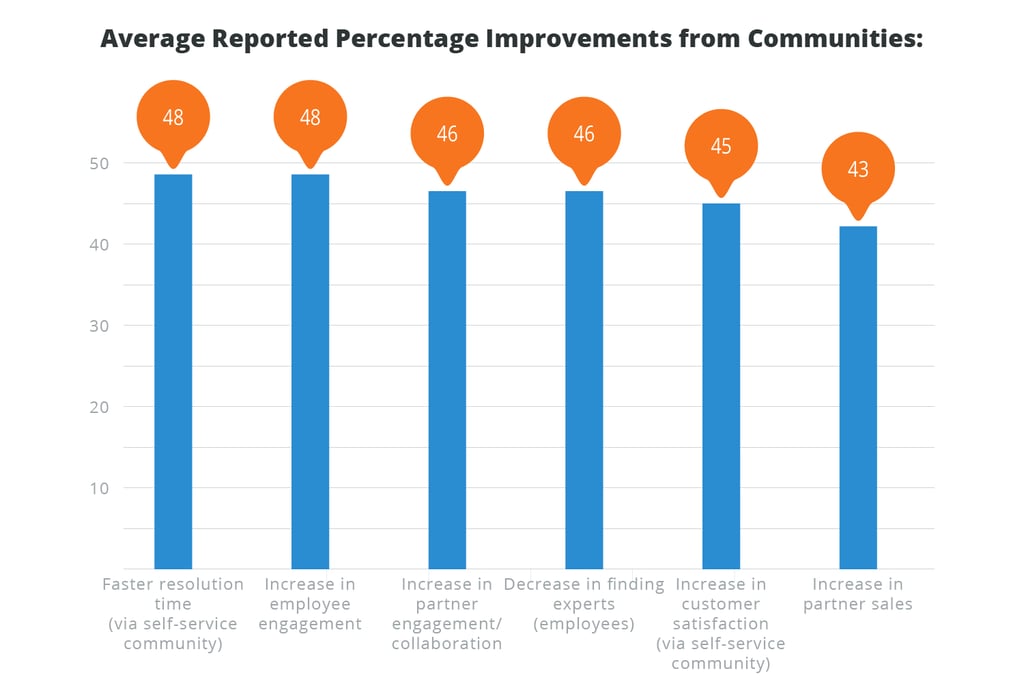 Collaboration as well as trends towards personalization, ease of use and mobility made possible through CRM solutions for retail banking are:
Developing personal relationships with customers
Increasing trust as customers
Improving employee responsiveness and ability to solve problems quickly
Need help with deciding which CRM is right for your financial institution? Contact our consultants and we will work with you to devise the perfect integration strategy, approach, and plan that will work with your budget and current infrastructure.