Use of CRM in healthcare
It is the goal of all healthcare providers to deliver care of the highest quality to patients and consumers alike. Part of delivering high-quality healthcare lies in establishing reliable relationships with care seekers and maintaining an organized patient information structure that is accessible by everyone involved in the delivery of healthcare services, while complying with medical information, security and privacy regulations. Improving access to patient data effectively improves the quality of care and consequently increases patient satisfaction. This is why the use of a CRM such as Salesforce Health Cloud for hospitals and institutions has become a widely accepted innovation. Check out this study which reveals the value of CRM as used in some hospitals in Thailand.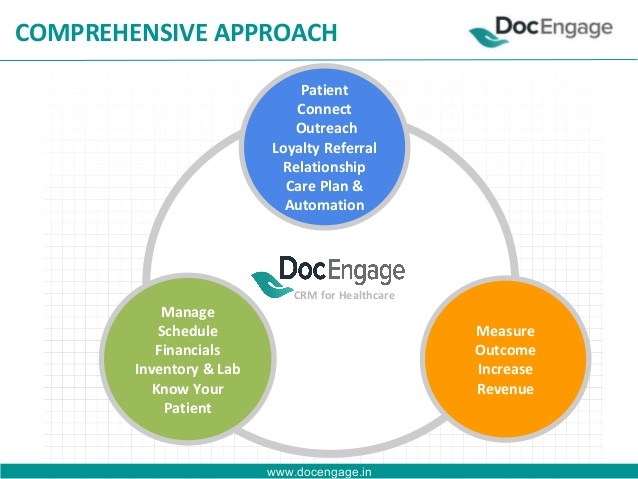 The CRM approach to healthcare coordination.
Quality coordination for improved patient care
Delivering healthcare services is no longer a single discipline job, multiple parties are now involved. As with any setup involving multiple team members, the biggest challenge faced is information access and synchronized planning. In a healthcare institution, usually a patient intake team passes on the patient to the treatment team, who in turn pass the patient on for post-treatment management and recovery. Such a setup depends on effective communication and information flow in order to deliver the best care possible to the patient. With the use of Salesforce Solution for Healthcare Providers, coordination is greatly improved since all patients and healthcare personnel are centralized for easy access and management. Salesforce provides automated CRM solutions for healthcare institutions that improve patient experience and increase satisfaction, called Salesforce Health Cloud.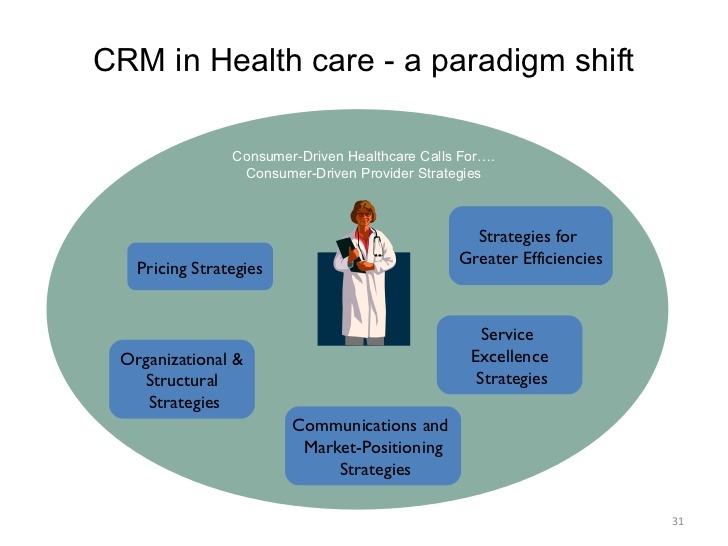 Flowchart showcasing the different facets of CRM in healthcare
Dynamic healthcare delivery
Different departments within a hospital often work in collaboration to optimize patient care and make critical decisions concerning the patient. Salesforce Health Cloud makes it easy to establish collaborative care delivery across departments. It is even possible to share information for patients who need to switch between public and private sectors. Merck uses Salesforce CRM to connect patients and physicians to create seamless patient journeys and provide ongoing personal attention.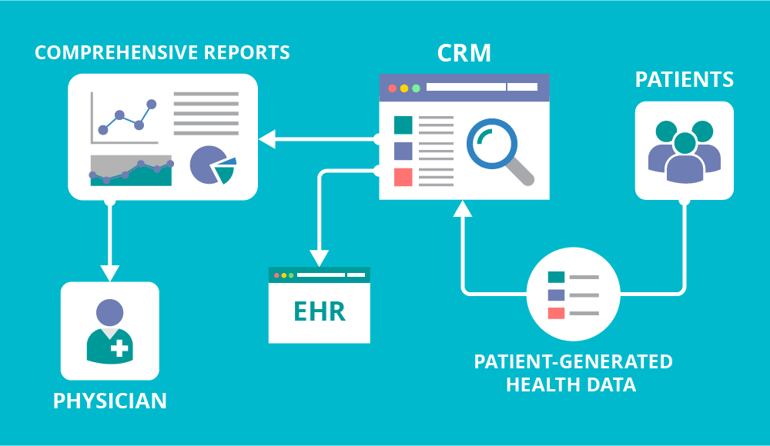 Scenarios depicting the scope of CRM in healthcare
Performance analysis
The use of CRM in healthcare provides a unique opportunity to analyze and optimize day-to-day routine processes involved in service delivery. CRM makes it possible to collect important hospital dates like admissions, discharges, transfers, referrals…etc. By analyzing this data, certain measures can be taken to improve patient experiences. For example, some unnecessary steps between admissions and referrals may be eliminated, and automated activities between disciplines can be customized for maximum efficiency. Patients too, understand this requirement of positive healthcare experience. According to a certain data, more than 52% of patients choose hospitals where they believe they will get a good customer service. Gain a single view of patients to gain better understanding and communication using Salesforce Solution for Healthcare Providers.
Management of chronically ill patients
Patients suffering from chronic illness need organized care such as programmed follow-up checkups and routine tests. With the use of CRM in healthcare, such as Salesforce Health Cloud, it is possible not only to build relationships between the patient and care giving team, but also to provide effective engagements amongst the care giving team itself. Management plans can be easily customized according to the availability of the personnel concerned and follow up checkups can be programmed at the convenience of everyone involved, including the patient. Above all, treatment can easily be adapted and developed for specific patients, making it possible to personalize the care given to each patient. According to some studies, the CRM industry in healthcare will undergo a CAGR of around 9%.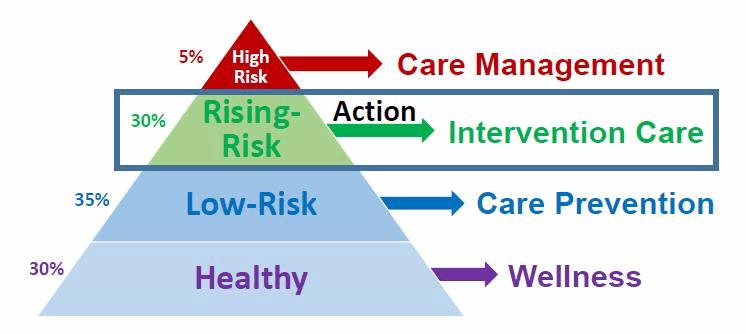 Datachart revealing the percentage of care required for the different strata of chronic patients
As a case in point, Easter Seals Bay Area has been using Salesforce for over 2 years to assist their 500+ employees in managing care for disability patients. Currently, the team has managed to service over 80,000 patients with different disabilities.
The bottom line
Using CRM in healthcare increases effective patient outreach and improves efficiencies through automated workflows across multiple parties. Coordination is effectively improved making it possible to be cost-effective without compromising the quality of healthcare delivered to patients. The importance of CRM in healthcare industry can be analyzed here.
With real-time reports and analytics, data available in one place, available at any time, you can expand your reach and uncover new opportunities with analytics through the power of Salesforce Healthcare Cloud. Salesforce Healthcare Solution integrates patient data enabling access by providers and patients when they need it. Need help with your integration strategy? Contact our consultants and we will work with you to devise the perfect integration strategy, approach, and plan that will work with your budget and current infrastructure.