Salesforce CRM Integration For Healthcare Sector | Cetrix Cloud Services
Make yourself a powerful digital platform on the internet by integrating our most effective Salesforce CRM software into healthcare and life science sector
Solutions For Healthcare And Life Sciences
Integrated CRM Automation for Healthcare
Today, more organizations from every sector are striving to find ways to improve their interactions with those that they provide products and services to. The lifeblood of the exchange being the quality, relevance and timeliness of information flow between providers and consumers; this is the determining factor in the healthy functioning of the provider organization, and satisfaction of consumer needs.
"61% of patients think post-discharge care would improve with better communication, and 33% feel their doctor would not recognize them walking down the street."
Salesforce "Connected Patient" report
Nowhere is this rule more persistent than in the healthcare industry. This is the reason why healthcare providing organizations have the greatest need for a well-designed and efficient solution around a solid and healthcare-specific CRM; integrated with marketing, analytics and clinical decision support, with the capability for the deep automation of tasks and workflows at various levels.
Salesforce Health Cloud
Salesforce Health Cloud creates a collaborative environment between internal and external caregivers, pharmacists, physical therapists, social workers, nurses, administrators and the patients themselves, thereby enabling patients to engage in their own health care.
Cetrix Cloud Services implements the Health Cloud for hospitals, clinics, other healthcare providers and life sciences companies, expanding its functionalities by developing unique features and functionalities for each customer using the Salesforce platform. Then, Cetrix integrates it with other software systems such as marketing and analytics applications as well as external data sources.
HubSpot Digital Marketing Platform
With today's tech-savvy patients and physicians, digital marketing is no longer optional for organizations and companies in the healthcare sector. The use of mobile devices in the hospital by physicians and healthcare workers has been constantly rising during past years.
At the core of these tools and techniques are a responsive website, search engine optimization, and content marketing, all of which are integrated in the HubSpot marketing Automation platform. With extensive facilities for automation, healthcare organizations can implement the most complex marketing strategies and conduct multiple campaigns with ease.
As a HubSpot partner, Cetrix Cloud Services offers its marketing services such as consulting, developing strategy, planning campaigns, and monitoring and improving planning to healthcare organizations and life science and pharmaceutical companies to complement one of the most powerful and comprehensive digital marketing platforms on the market.
Table of Contents
Healthcare Data Analytics
Because of the huge amount of data that is produced by healthcare organizations, life science, pharmaceutical companies, and research centers, as well as the critical decisions the experts in this sector have to make, data analytics benefits the healthcare sector tremendously.
Although healthcare data comes in many sizes, shapes and forms, analytics tools like IBM Smart Analytics System, Salesforce Wave Analytics, and Google Analytics 360 Suite combine many structured and unstructured data sources creating a centralized data repository and single-source of truth across the organization.
Analytics helps hospitals and care providers to streamline regulatory and operational reporting and share interactive business intelligence dashboards across the organization to keep management, physicians, and staff informed and track KPIs to constantly improve both business and medical processes.
A partner of IBM, Google, Salesforce and Cloudera, Cetrix Cloud Services provides consultation to healthcare and life science organizations; such as to which analytics tools serve their unique needs best and fits into their integrated automation system with CRM and marketing platforms, and current HIS and records systems. We then acquire the software and integrate it with other platforms, train you on how to use the tools, and provide you with long term support so that you will get the most out of your investment in these systems.
MoMA Improves the Customer Experience With Its New and Improved Online Store
The Salesforce Experience for Modern Museums - MoMA and FAMSF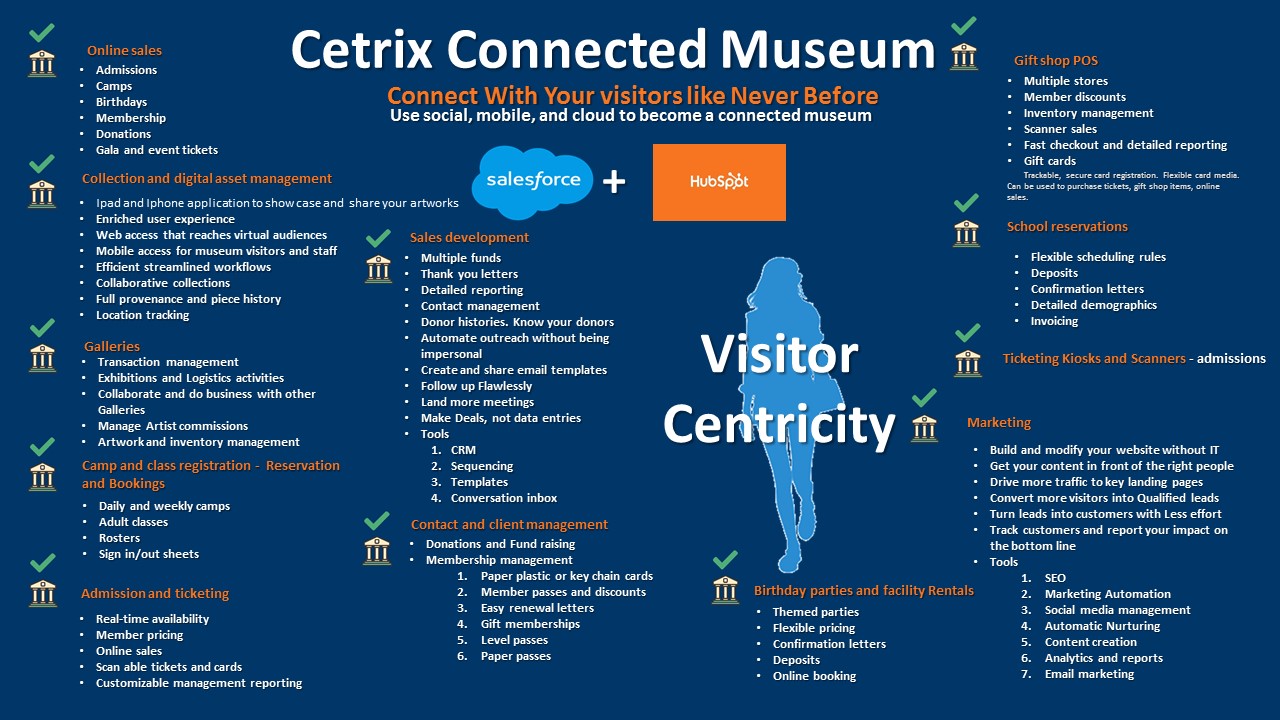 Cetrix Connected Museum
Your customers expect you to have a deep knowledge of their business and industry. Download to find out Cetrix Connected Museum .