Key takeaways:
Salesforce Sales and Marketing Alignment produces greater insight into the entire customer experience, allowing the entire team—from marketing to customer service—to access and use valuable data to enhance their customer interactions.
Salesforce's Customer 360 View can be achieved through integration of a company's existing technology stacks and all MarTech tools in the native environment.
A Salesforce Predictive MarTech Alignment solution harmonizes systems so that data sharing and syncing is performed seamlessly and accurately across the entire technology stack.
Introduction
In the face of a digital transformation, one of the greatest challenges facing organizations is how to capture the full value of the data and technology available to them. To fully leverage new capabilities, companies need a holistic look at the customer journey—they need alignment between sales and marketing teams and integration between platforms and tools to share data and insights in an actionable way.
Generally, solutions that can be integrated into the core platform are preferred for efficiency, cost and future-proof technology reasons. In a native Salesforce environment, this type of integration is achieved by designing a Salesforce Marketing Technology (or "MarTech") Solution. The methodology incorporates Salesforce CRM at its core to deliver a native ecosystem that best supports pipeline optimization.
With the Salesforce CRM at its core, a MarTech solution harmonizes all of the various systems, ensuring that they are accurately sharing and syncing data across the entire marketing technology stack. Once integrated, the sales and marketing teams have access to higher quality data regardless of where they need to work and can leverage the power of AI and digital process automation to maximize effectiveness of predictive prospecting. With Salesforce Predictive MarTech Alignment, aligning and empowering an entire team has never been easier.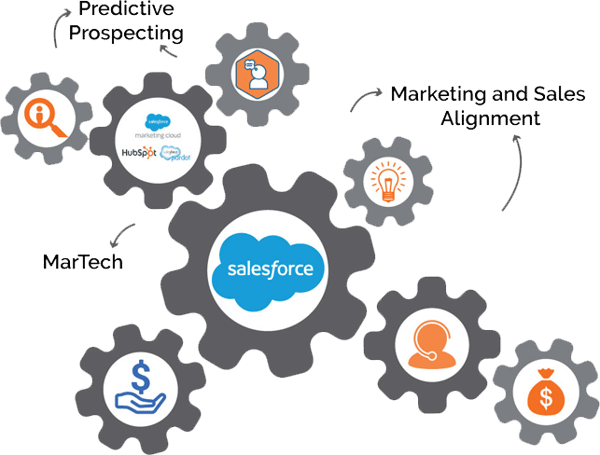 The Benefits of Salesforce Predictive MarTech Alignment
As marketing becomes increasingly driven by technology and data, typical marketing functions are evolving to include strategic direction for the company's use of marketing technology, in addition to responsibility for managing demand generation, lead management and funnel performance. Salesforce captured this aptly in its blog: "As machine learning and predictive analytics technologies have rapidly matured, a whole community of forward-looking sales and marketing leaders are emerging as predictive innovators."
One of the key benefits of a Salesforce MarTech solution is increased efficiency. During the implementation of an integrated solution, your practices and procedures will be streamlined; guidelines for success will be determined; and a development solution based on your company's unique technology stack will be customized. By creating an integrated environment based on the persuasive abilities of Salesforce CRM, your sales team will be able to focus on delivering the most relevant material at the right moment, all while saving time. Making data accurate and easy to access allows sales teams to make better use of their sales cycles, improving overall KPIs and allowing them to make decisions faster. Typically, increased productivity leads to increased earnings.
In addition to operational efficiencies, an integrated solution optimizes the customer experience by generating more qualified leads and enabling a faster reaction to customer requests and behaviors. An active, integrated application environment equips your Smarketing team with the capability to:
Collect contact information, valuable insights and company statistics from prospective buyers.
Track every email, link and record for actual time engagement and consumer statistics.
Use messaging to connect buyer pain points directly to your solutions.
Instantly share the most relevant presentation materials based on the customer's
Create and access interactive sales and marketing assets based on customer interest.
Access detailed analytics about the documents that interest prospects the most.
Seamlessly sync information throughout your entire technology stack between your sales and marketing teams.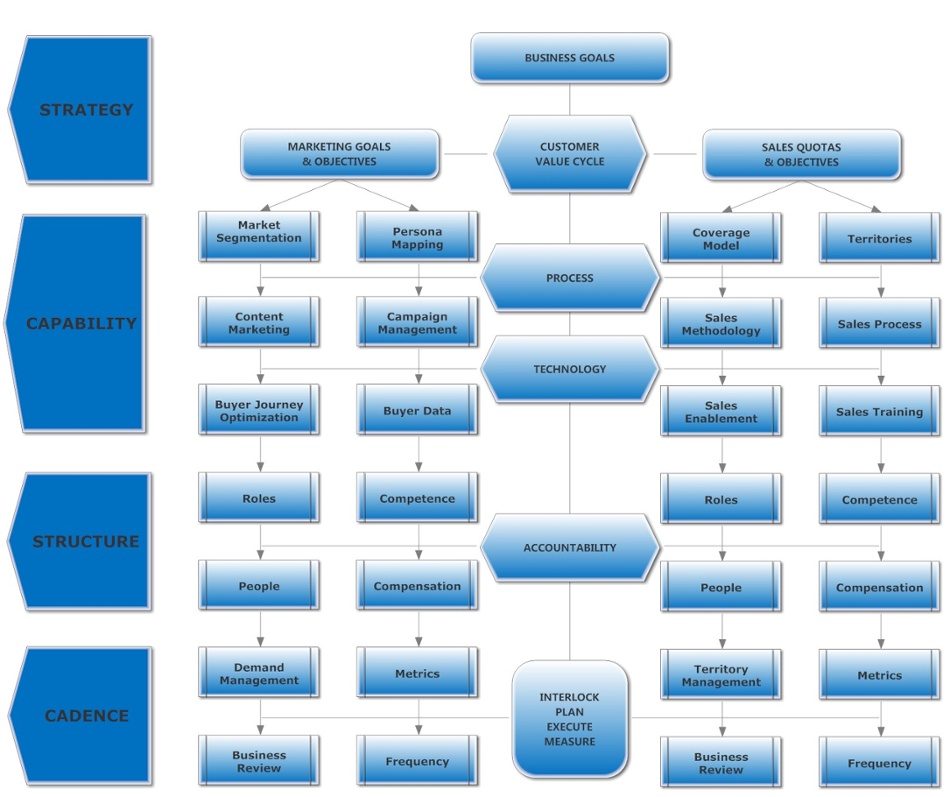 Synchronized marketing and sales
Custom Integration
There is no one-size-fits-all solution when it comes to Salesforce Sales and Marketing Alignment integration scenarios. Each solution is custom-designed and developed based on the client's existing technology stack and goals. Integrated Application Environments means you work in the software or application you typically use, with full confidence that the data you're working with is fully updated and accurate. The most effective solutions base integrated application environments around the Salesforce CRM, given the internal and connection capabilities provided by the platform.
While no two integrations look the same, there are some common characteristics across most customized solutions:
1. An "Integrated Application Environment" based on Salesforce CRM
The software in today's technology stacks are robust and offer impressive data, but the only way to truly leverage it is to be tightly integrated across the B2B pipeline. This includes digital advertising, website, Salesforce customer relationship management (CRM) platform, and any additional software. Integration allows more significant insights into customer behaviors and enables companies to determine which marketing efforts are affecting the bottom line.
An integrated application environment based on Salesforce CRM "closes the loop" on the creation of ecosystem and creation of ROI reports.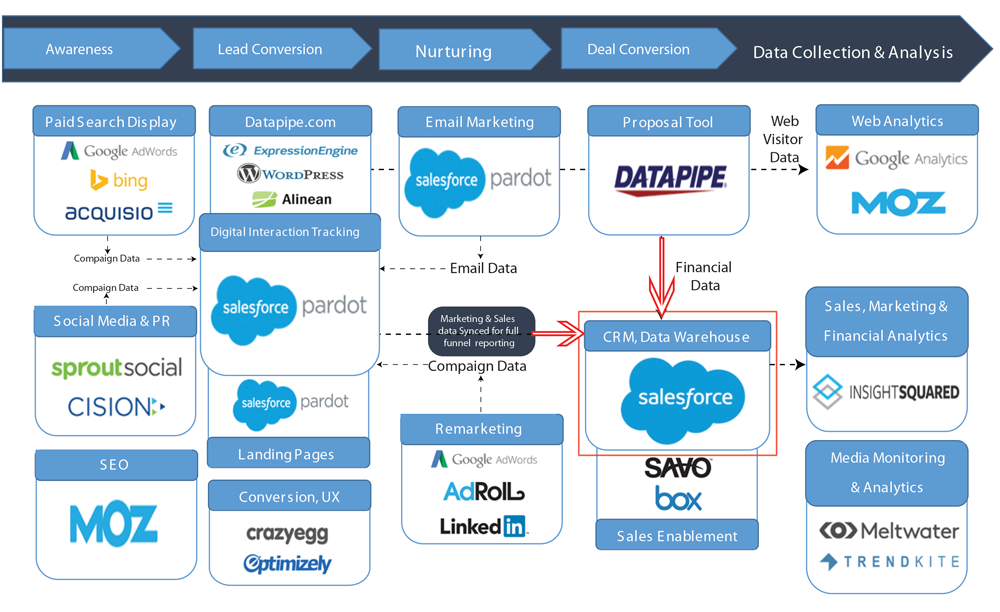 Salesforce CRM architecture differentiators:
Platform as a service
"Cloud" service generally means low initial investment costs and low scaling costs. Modular and tier-based platforms mean solutions can easily and gradually be built, block by block.
Everything in one location
Platform, data, tools and analytics are all in one location. There are no distributed systems; no separate data sources that can be consolidated in another level.
Salesforce architecture is a trust multi-tenant cloud. That means that although several instances of a single or multiple software modules are logically separated, they are hosted on the same hardware sharing the same resources in a trustful manner.
Everything in common
Customer data can be structured or unstructured; internal or external; and third-party integrated. Regardless, there is a common platform with common, integrated data without translation or mapping issues. Marketing and sales teams can be aligned and work with clean customer data using common applications tools and analytics.
Find out who your prospects are. While there is effort required to begin collecting data—determining which profile characteristics and behaviors indicate that a lead is a marketing-qualified or sales-qualified lead—but once parameters are in place and scoring is set up, you're in a position to quickly, easily and continuously identify the best leads. As you learn about your prospects, you should be ready to spend time thinking through your methods and revisiting and tweaking them.
Integrating the software across your technology stack allows you to take B2B Predictable prospecting a step farther. By progressively profiling your leads across platforms, you can automatically collect new information about them every time they interact with you in a digital space. This information enables you to segment your lists and send targeted email campaigns.
Salesforce's Customer 360 view can be achieved by creating an integrated MarTech solution within the Salesforce CRM, enabling the software to track the behavior of leads displaying interest in becoming customers (prospects) by recording click-through and conversion of your online marketing as well as human-to-human contacts like on-site visits and phone calls. One option is to integrate the HubSpot marketing automation platform with Salesforce to gain a detailed Customer 360 view timeline.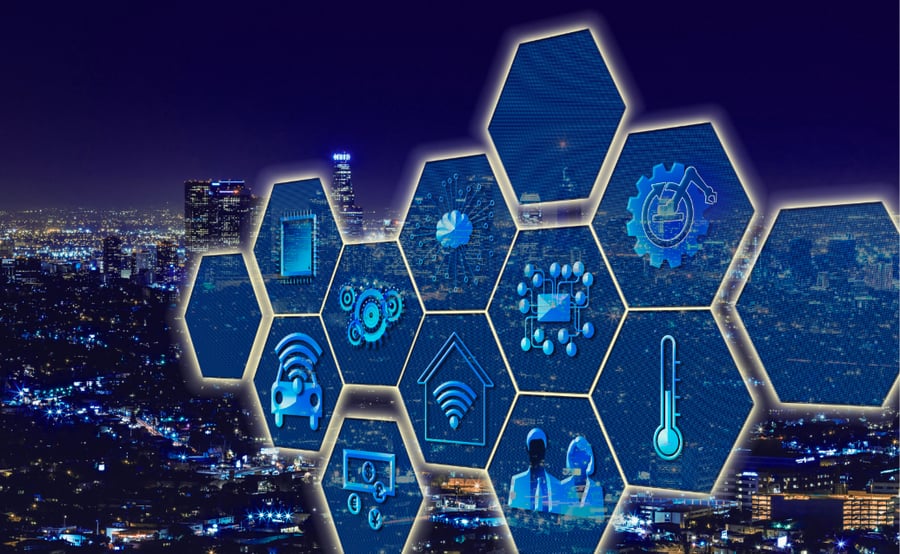 A Salesforce Predictive MarTech Alignment solution captures and syncs this information automatically (minus the human-to-human connection, which must be inputted by sales representatives).
While lead nurturing can be challenging to get right, it's often highly effective when performed well. Effort and resources spent developing and optimizing automated campaigns to help move clients through the buying cycle can pay off. By integrating your technology stack, you have access to a powerful combination of tools and strategies at your fingertips, while simultaneously ensuring your analytics and data-capture processes are performing correctly. Salesforce describes, "Everyone involved can more easily communicate what the model predicts and how it will ultimately affect business operations."
Although Salesforce marketing automations, analytics and other applications have drastically improved marketing performance, the sales pipeline is far from optimized. In fact, pipeline optimization has been identified as the biggest challenge in enterprise sales management effectiveness, with aspects like the size of the pipeline and the quality of data being the primary areas of concern.
Einstein out-of-the-box applications (Sales cloud Einstein, Service cloud Einstein and Marketing cloud Einstein) infuse AI into Salesforce, while the Einstein platform provides tools for configuring and customizing the environment. Given its horizontal, multi-tier architecture, AI can be used throughout all Salesforce applications, thereby supporting the entire customer journey.
When it comes to pipeline optimization, Einstein's predictive analysis is a powerful tool. It is data centric and uses statistical models (machine learning) to find data patterns and make predictions or recommendations about future actions. The results are reliable, accurate and, most importantly, fast. Using the Einstein Prediction Builder, rules and outcomes can be defined while Einstein Analytics and Discovery provide deeper insight into data patterns and study and predict future market scenarios.
Predictive analysis techniques can be used in several stages of the customer journey—from lead or engagement scoring and customer intent analysis to smart analytics and personalized marketing—resulting in pipeline optimization, both quantitatively and qualitatively.
Companies can use predictable prospecting paired with B2B user intent data to maximize the effectiveness of and return on their sales and marketing efforts.
In most organizations, marketing is focused on maximizing lead generation and the sales team is focused on closing as many deals as possible. Marketing departments are racing through the pipeline with their MarTech implementation, while sales departments live and work in Salesforce CRM. But, this siloed approach hurts the organization's effectiveness. As companies are making efforts to more closely integrate their sales and marketing teams, they're faced with figuring out how to also integrate their management systems to efficiently and effectively gain a holistic picture.
Once a prospect buys from the company, he or she becomes a customer worth monitoring. CRM applications, including Salesforce CRM, track customer information like goods purchased, dates of purchase, sales representatives buy prices, special instructions and customer feedback. These insights can be enhanced by connecting additional data about your customers' interactions with your company. For example, a CRM system could contain information to help agents with customer service. An integrated system would not only give the representative access to customer service information, but also purchase contract data, product information and a knowledge base while at the same time enabling the representative to record service-related input like complaints and support tracking numbers.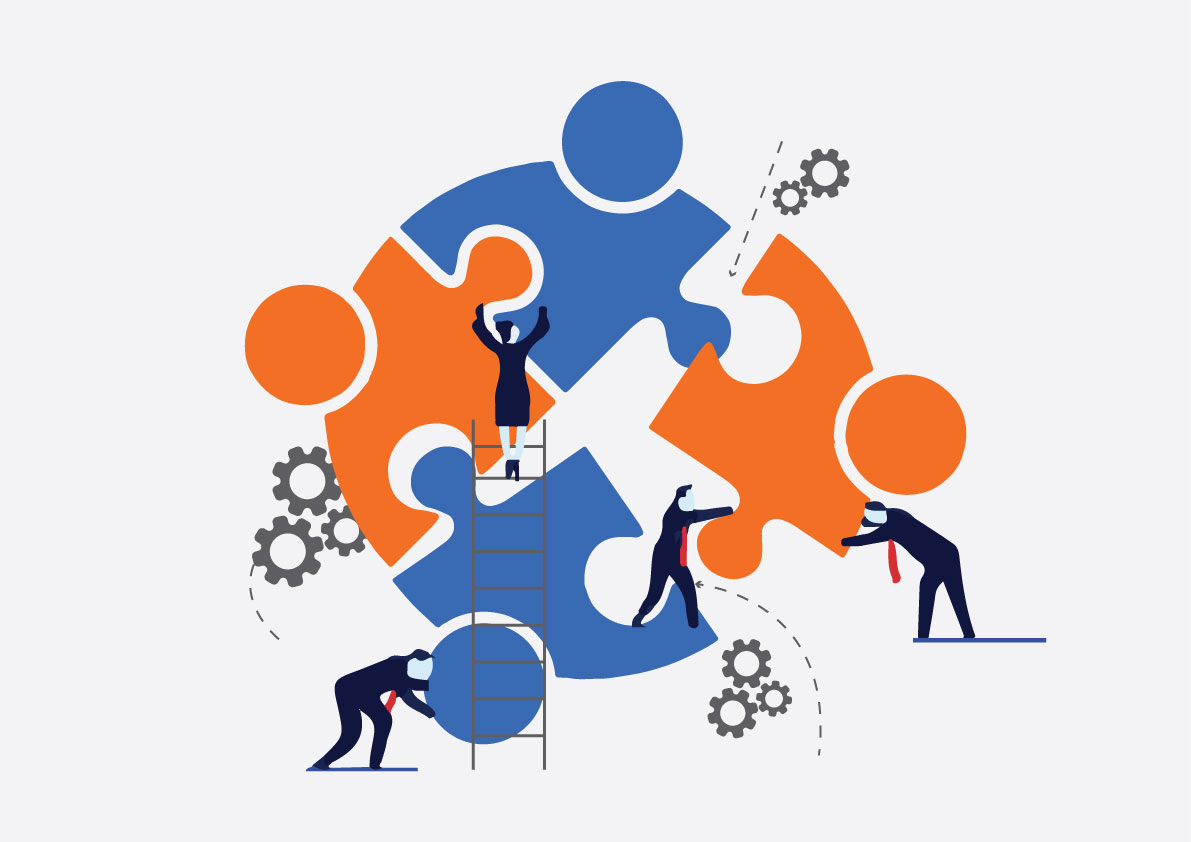 For marketing teams, this kind of integrated solution saves a significant amount of time and equips them to make better decisions, thereby improving their return on marketing investment. In one study reported by HubSpot,
75% of marketers spend up to an hour every day analyzing data and connecting reports from different tools;
60% of marketing teams spend 10% of their budget to integrate, maintain, and manage their various tools.
To be valuable, data and insights must be aggregated and displayed in reports that answer specific marketing questions. Salesforce writes, "Many companies sit on treasures of consumer data from loyalty systems to subscriber data." In an integrated application environment, answering marketing questions becomes simple with custom, aggregated reporting.
A metadata-driven platform means that data "lakes" or repositories can be built to work with different software modules. But in all cases, they will be fed from common data.
Different software modules can then access these repositories. Since there is a common data source, the scope can be narrowed to only one part of customer journey or expanded to include the entire experience.
This approach sets up the sales and marketing groups to be able to work together as a cohesive team.
Conclusion
Salesforce sales and Marketing Alignment—integrating marketing and sales around a common go-to-market approach—has never been more critical—it has become a prerequisite to getting full value out of the new capabilities enabled by technology and data. Many B2B companies are finding out that they must accelerate their digital transformation to effectively engage their customers. But, the need to quickly transform has driven many companies to adopt large, piece-meal technology stacks as they attempt to provide their teams with the insights they need to perform competitively. To successfully harness the power of a Salesforce MarTech solution and deliver the level of customer experience expected by today's B2B buyers, teams must be equipped with AI-powered tools and technology, data-processing and analytical skills need to be developed and embraced throughout the organization and along the entire B2B Pipeline.
Ultimately, Salesforce's Customer 360 view is critical in generating insights and enabling more advanced modeling efforts to better anticipate customer behaviors and needs. Salesforce Predictive MarTech Alignment provides the integration that you need to make the most of your entire Marketing Technology Stack, and allows your teams to operate in sync, while improving accuracy, efficiency and enabling new AI-based capabilities.