Did you know that a diverse group of industries are making waves in Salesforce? Salesforce is the most highly valued cloud computing and customer relationship management (CRM) product on the planet. Its implementation transforms your teams working life and business relationships exponentially. Salesforce helps to manage customers with readily accessible data which allows for a continual increase in both productivity and efficiency.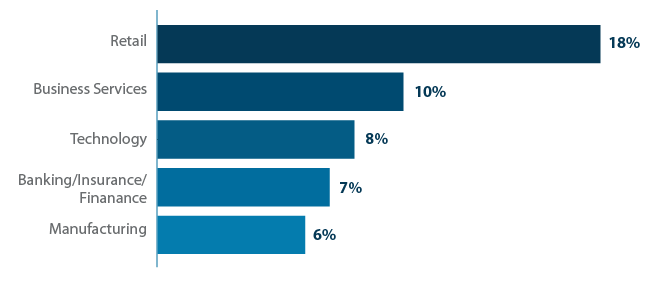 Top industries that use CRM software
Since the initiation of Salesforce, many businesses worldwide have had dramatic increases in growth and sales. It is every small business's dream to quickly gain momentum. When you use Salesforce CRM Platform you should be ready for the increase in customer volume that is inherent when adopting the Salesforce CRM Platform. Growth becomes an inevitability when redirecting the previously tied-up resources into organizational expansion.
Many small businesses use Salesforce CRM to make the most of their assets; these include their customers, people, and technologies. Salesforce has long been the solution for many industries due to the embedded features that aid advancement. Since there are high rates of users adopting the CRM platform, Salesforce continues to grow to create distinct characteristics that differentiate the companies that use Salesforce from those who have not yet done so.
Salesforce is the most popular CRM across industries and incredibly common among mid-size companies including business services, software, and manufacturing verticals. Mid-size companies that use Salesforce have a yearly revenue of $1 – $50 million and more than 63 percent of these companies are software, manufacturing verticals, and business services. While ascertaining the aforementioned information, there were findings indicating that companies who use Salesforce CRM have a strong emphasis on marketing and sales and are more than four times as likely to have marketing and sales teams. Additionally, these companies have strong customer service teams. As is often said, "there's a reason that 68% of top-performing small businesses are using marketing automation".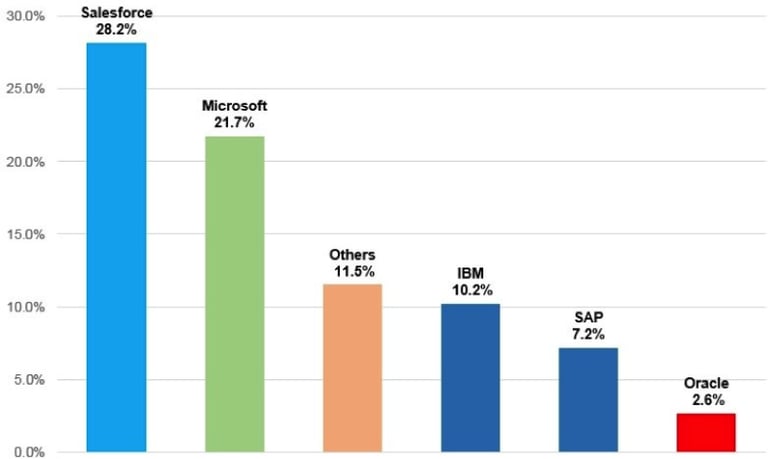 Salesforce vs. Competitors
Salesforce CRM is developed in such a way that puts employees and their workspaces online. There is no infrastructure to manage, setup, or buy. You only need to log in online and get to work. With Salesforce every aspect of your business is complete and you would be able to manage every part of your business, from sales leads to support tickets as well as channel marketing and website analytics, from anywhere and at anytime by utilizing any desktop or device. A Gartner report predicts that "by 2018, 20% of large B2B organizations will build business graphs of their sales processes to improve their sales execution."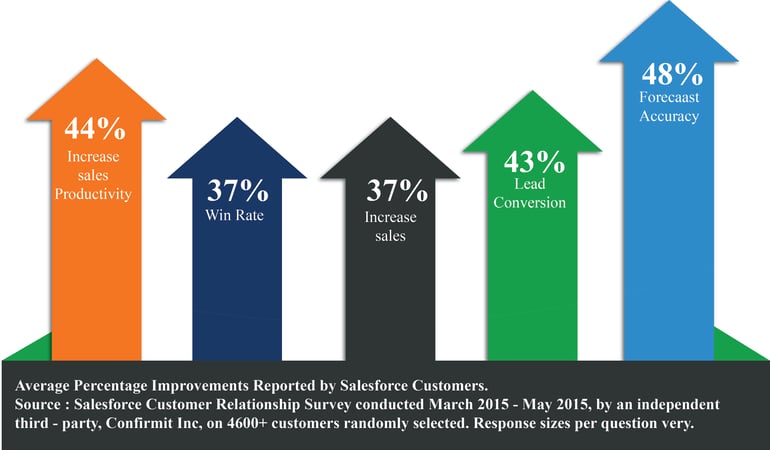 What makes Salesforce's CRM such a popular choice?
Salesforce has customers' solution for every industry and below are the common industries that use Salesforce most:
Financial services

: ranging from main street banking to wall street investing. The financial industry is said to have been disrupted by social, digital and mobile innovation. With the application of

Salesforce CRM platform

, companies can switch from defense to offense with better personal customer interaction. You can grow your book of business faster and build deeper relationships when approaching finance with Salesforce.

Healthcare and life sciences

: The age of the patient is now. New reimbursement standards, increasing connectivity demands, and rising customer expectations are leaving the healthcare system overburdened. Healthcare and Life Science industries use Salesforce to redirect this energy-shift into an opportunity by adopting the advantages of more patient-centric engagement powered by mobile, social and cloud technology.

Retail industry

:

Salesforce CRM platform

is highly demanded in the retail industries as shoppers demand a seamless customer experience from online to in-store.
Manufacturing & Consumer Goods: markets, channels, people, and products are more connected than ever. Salesforce provides competitive advantages when engaging in the hyper-connected markets. With connected devices you will sell faster and ultimately outpace the competition.
Communication and Media: while customers trust their providers less they learn more and regain their confidence through other customer experiences.
Government: the increase in connected consumers in the private sector has framed this same expectation of active connectivity when interacting with governmental bodies as well. Salesforce helps in building trust, improving engagement and driving lightning fast innovation that gives you the opportunity to better connect people to their government.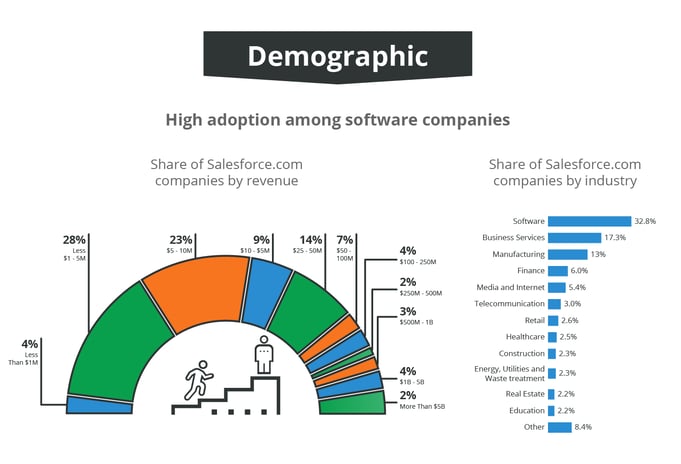 Data chart showing Salesforce by verticals.
Need help with deciding which CRM is right for your company? Contact our consultants and we will work with you to devise the perfect integration strategy, approach, and plan that will work with your budget and current infrastructure.