Statistics for CRM trends in 2019 show that more and more businesses already have a CRM in place and customisation is becoming more important to them.
Findings also indicate that businesses are willing to change their CRM for one that is more suited to their industry needs. The CRM audience in general has become more tech-savvy, leading to a more well informed audience who know what they want and expect technological advances in the systems they use.
We are also ushering in the fourth industrial revolution, or 4IR, and this has it's own challenges and rewards. How we react to the changes can have a drastic impact on both commerce and society.
The IDC study on Key Statistics for Salesforce CRM, involving more than 1200 companies using cloud platforms in eight countries, provides new insight into Salesforce's contribution to the IT and CRM industry. Salesforce has revolutionised the CRM market, and continues to keep up with market demands and beyond to predict market trends and innovate accordingly.
Key Statistics for Salesforce CRM
Cloud computing has a share of only $2 trillion of the total IT market share. The services provided through Salesforce cloud are SaaS (Software as a Service) applications, SaaS ICT infrastructures, infrastructure as a service (Iaas) and platform as a service (PaaS). The total spending on cloud computing services by Salesforce are 11% in PaaS, 16.0% in IaaS, Saas (Apps) 61% and Saas (Systems infrastructure) 12.0%. Almost 66% of consumers say that being treated as a number rather than an individual would cause them to switch companies and setup service with someone more responsive to the human element. Marc Benioff (Salesforce co-CEO) was recently quoted as saying: "We're the Number One customer company in the world. No other company in the history of the software industry has been as focused on customer-relationship management, and now customers can achieve that customer transformation with Salesforce". This explains why Salesforce's customers are some of the most loyal.

SaaS for SCM Market Size growth projections
Starting in 2015 and continuing on to 2020, cloud computing will generate $389 billion in new revenues for Salesforce customers. This translates to an annual yield of about $80 billion being globally generated, the US experiencing the largest gains with margins approaching $269 million, the UK at $36 million and Japan, closing the top three highest gainers by revenue with $20 million.
IDC estimates the creation of more than 1.9 million cloud-related jobs within the Salesforce economy from 2015 to 2020 with the US accounting for 400,000 jobs, Japan accounting for 109,000 new jobs and the United Kingdom generating more than 85,000 jobs.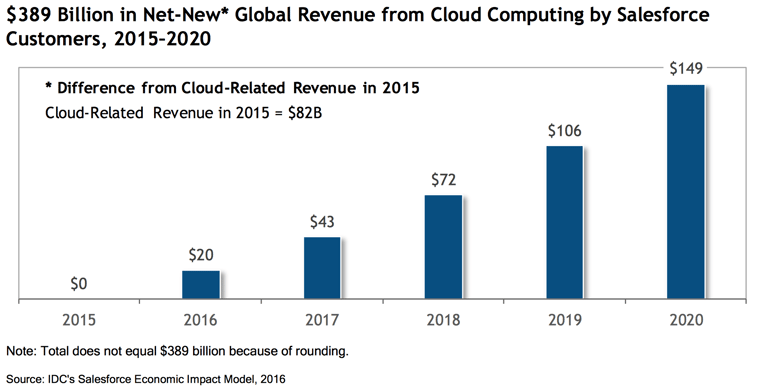 A related study by IDC
Growth
As of mid-2018, Salesforce Einstein predictive-AI had crossed the 1 Billion Predictions Per Day threshold meaning the company will redouble its AI efforts and commitments for infusion across all of its products and services
55% Of New Business is now generated with partners (like Cetrix), showing the carefully cultivated expansion of the Salesforce ecosystem.
Other financial statistics include:
$3.7 Billion Annualized Run Rate:

for the Sales Cloud, up 16%
$3.1 Billion Annualized Run Rate:

for Service Cloud, up 28%
$2.1 Billion Annualized Run Rate:

for Platform & Other, up 37%
$1.6 Billion Annualized Run Rate:

for Marketing & Commerce Cloud, up 33%
31% Revenue Growth:

for EMEA
26% Revenue Growth:

for APAC
$10.48 Billion:

revenue for FY18 (ending Jan. 31), up 25%; for Q4, $2.85B, up 24%
In 2017, Salesforce won multiple awards including:
Salesforce has also bagged the CRM Magazine's best Enterprise CRM Award in the industry from 2009 through to 2014. The company has also won the CRM Magazine's Mid-Market CRM award from 2008 all the way through to 2013. Other industry recognitions include Destination CRM's Winner for Small Business CRM (2009, 2010, 2011, 2013, 2008, 2012, and 2014); Recommended as the Best CRM provider by Software Advice and recognized as Top-Rated CRM by the G2 Crowd Grid for CRM.
Salesforce's cloud-based platform that allows users to access the full CRM functionalities without in-house server infrastructure has generated a dramatic increase in workflow efficiency. For instance, users can simply log into Salesforce App Cloud and access functions such as new leads and opportunities, analytics, notifications, contact management and forecasts.
In 2018, Salesforce entered the 'magic quadrant' in the Gartner report. Gartner estimates CPQ (Configure, Price, Quote) revenue at $1.1 billion in 2017, up 36% year over year. They project the CPQ market to increase 25% annually through 2020, indicating its importance for B2B sellers. This research evaluates 16 vendors to help application leaders choose the best CPQ suite for their needs.
By 2015, Salesforce was ahead of its rivals like Adobe, Microsoft, Oracle, and SAP with $10.48 billion in revenue representing a 19.7% market share and was viewed as the fastest-growing marketing segment among its top-five competitors.
The meteoric success of the company has not left Salesforce resting on its laurels. To meet an ever growing market, Salesforce is upgrading its data science capabilities to its Marketing Cloud and Service Cloud. Salesforce is using this strategy in targeting 71% of businesses investing in big data and business intelligence, 20% of these companies reporting positive ROIs. 79% of companies and their employees using Salesforce think that it gives them a better competitive advantage and make their jobs exponentially easier.
Salesforce CRM is on an incredible growth trajectory. In the analysis of trends, special considerations are given to primary marketing channels including digital advertising, social media, email and mobile platforms. Arguably one of Salesforce's greatest weapons in edging out the competition from other customer relationship management providers is their focus on customer satisfaction through digital innovations with an emphasis on the human element. Consequently, a survey on probable trends for 2019 reveals that:
73% of top rated marketers worldwide acknowledge that Salesforce customer journey strategy has positively contributed to overall customer satisfaction in the industry.
72% of top rated marketing firms will increase spending on marketing tools like Salesforce in the next two years.
More than 80% of online retailers and marketers agree that email is a core component of success for businesses.
The use of emails in marketing has grown by 11% annually from 2015 to 2018.
More than 75% of top marketing leaders recognize the Return on Investment (ROI) from social media related innovations in marketing.
At least 83% of top marketing firms are adopting the use of customer data like phone and email data, in segmenting digital ads.
Despite the fact that cloud computing still represents a small percentage of global spending on IT, its growth is greatly accelerated over the combined growth of all other segments of the IT industry combined.

Data showcasing the popularity that Cloud enjoys with the leading employers
The key takeaway is that the payoffs of incorporating cloud computing services into your business are much greater than just the individual impact on any one organization, but that investments in cloud computing lay a foundation for other competitive digital transformation initiatives.
Fourth Industrial Revolution
What is the fourth industrial revolution or 4IR?
It's a way of describing the blurred boundaries between digital, physical and biological worlds. A combination of technological advances in AI, robotics, IOT, 3D printing, genetic engineering, and quantum computing. Examples: GPS that tells you of the quickest route to your destination, voice activated assistants like Alexa, personalised Spotify recommendations, and suggested connections on Linkedin.
Why should I care?
4IR or Industry 4.0 is paving the way for disruptive and transformative changes in the way we live and do business and is happening at a blisteringly fast pace.
What is driving the change?
Artificial Intelligence - computers that can 'think' - pattern recognition, big data processing, making recommendations based on computational decisions. Used in many ways - to make recommendations on what restaurants in your area suit your tastes, right on up to helping economists understand financial patterns and consumer habits.
Blockchain - a decentralised and transparent way of recording and sharing data in a secure and safe way that relies upon the users of the chain to concur that an even has taken place, rather than relying on a centralised user (or server) to confirm. Transactions are traceable and open for all to see ensuring security in such areas as finance, medical information, and IOT.
New computational technologies are making computers 'smarter' - cloud-based technology allows computers to process information at a rate much faster than before, as well as the ability to store vast amounts of information which is securely accessible via any device from anywhere. Quantum computing has the ability to make computers millions of times faster, supercharging AI, create very complex data models and speed up discovery of new technology.
Biotechnology - harnessing of cellular and biomolecular processes to create new technologies and products for a plethora of uses. Advances in pharmaceuticals, materials, and cleaner energy sources are attributed to advances in biotech.
Robotics - use of robots for personal and commercial use. Used widely in commercial sense (car manufacturing, semiconductors) and technological advances have seen robotics become more and more advanced and sophisticated.
3D printing - print your own parts for prototyping and for production - less tooling required than traditional methods as well as being faster and more accurate for custom designs.
Internet of things (IOT) - everything connected to the internet and identifiable by other devices, a web of sensors. Encompasses everyday devices like wearable monitors to vehicle tracking. Enables businesses to collect customer information allowing them to see how customers use their products and so can help tailor marketing experiences.
How will the fourth industrial revolution affect business?
Customers expectations have changed with the change of technology. A Salesforce survey shows that the majority believe that these technologies will transform interactions with companies within 5 years.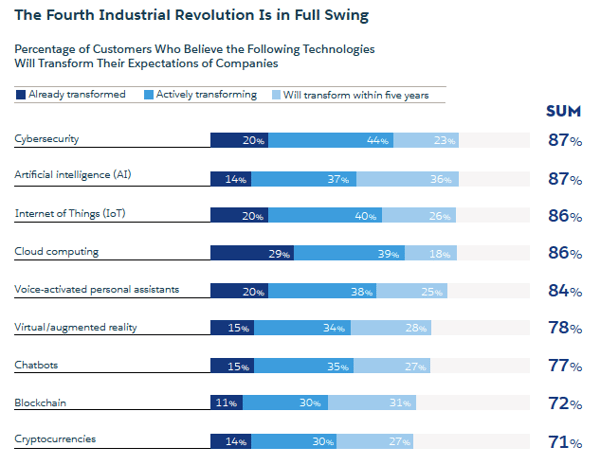 This will be overwhelmingly evident in customer experience. Technology has enabled businesses to offer personalised experiences across all channels and as a result has given consumers more options than ever meaning they are not afraid to switch vendors whenever they want for a better experience.
In fact, research shows that about 50% of customers say their experience falls short of expectations.
Connected processes are very important to customers. These include contextualised engagement based on previous transactions (70%) and tailored engagements based on historical interactions (59%).
This means businesses must focus more than ever on delivering connected engagements that customers want and expect and helps differentiate them from competition. Get this wrong and you could lose more than just the sale - 57% of customers have stopped buying from a company because a competitor provided a better experience. What's more, 62% say they share bad experiences with others.
To add to this complex melting-pot, research has shown that 57% of customers are not comfortable with how businesses use their data, and 62% are more concerned about their data being compromised than they were two years before.
In order to keep customers loyalty, companies not only need to deliver exceptional service, but also win and maintain customers trust. Salesforce co-CEO Marc Benioff is quoted as saying: "...as data becomes the currency of our digital lives, companies must ensure the privacy and security of customer information. And, there is no trust without transparency — companies must give customers clarity on how their personal data is used."
How will Industry 4.0 affect the workplace?
As with previous industrial revolutions, disruption will be seen in the workplace and will profoundly affect people's lives as AI and increased automation causes many jobs to disappear.
Bernard Marr said that computers and automation will come "together in an entirely new way, with robotics connected remotely to computer systems equipped with machine-learning algorithms that can learn and control the robotics with very little input from human operators."
He added, "Industry 4.0 introduces what has been called the 'smart factory,' in which cyber-physical systems monitor the physical processes of the factory and make decentralized decisions."
Due to this reshaping, businesses must prepare their people for the world that lies ahead. This translates into a workforce that is continually working, building new types of jobs and diversifying.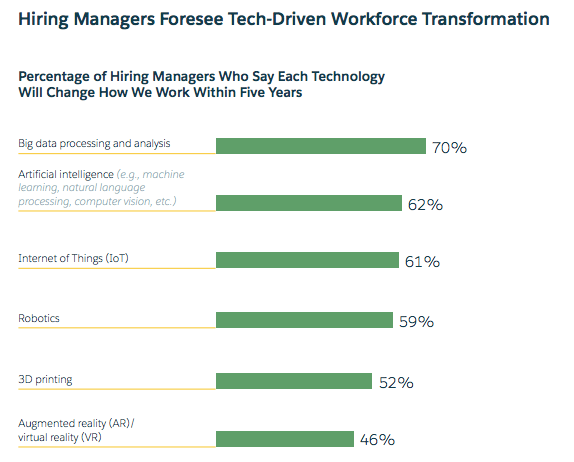 What should businesses do to future-proof their workforces?
The right mix of skills in the workforce is crucial because with the rapid onset of technology, skill sets and competencies become obsolete.
Workers will need to update their skills and do so at a regular cadence, relentlessly striving for innovation and change. Lifelong learning is key to adapting to the change.
Non-traditional pathways in recruitment, culture and environment will have to be trod in order to stay ahead of the curve. An internal environment that fosters learning and growth of employees is necessary, it's not enough to just hire new talent. Employees need to be enabled by the businesses they work for in both hard and soft skills. As AI and automation makes some traditionally human-only tasks redundant, the need for emotional intelligence, creativity and critical thinking becomes more prevalent.
Need help with deciding which CRM is right for your company? Contact our consultants and we will work with you to devise the perfect integration strategy, approach, and plan that will work with your budget and current infrastructure.