"As B2B marketers increasingly lead the entire buying experience, they must establish a foundation of insights and pivot from campaign to engagement design that encompasses both digital and human interactions. In 2019, we predict that vendors' response to this need will accelerate as their customers commit to full life-cycle marketing"
Transforming Sales and Marketing Alignment from Linear to Multi-Dimensional and Holistic
Approaching 2019, integrating marketing and sales around common results has never been more critical. It has become a prerequisite to getting full value out of the new capabilities enabled by new technology and data-driven capabilities. Many B2B companies are reaching the point where they must accelerate their digital transformation to engage their customers impactfully. Empowering your teams with AI-powered tools is essential to delivering the level of customer experience today's B2B buyers expect.
New technology, data-processing, and analytical skills need to be created and embraced throughout the organization and along the entire B2B Pipeline. Many organizations have adopted large, piece-meal technology stacks as they attempt to provide their team members with the resources they need. While your teams have access to the tools, they now face the challenge of ensuring the data quality and accuracy of various software and systems. Maintaining your data quality can become an even more significant challenge when your Sales and Marketing teams utilize different software as their primary work environment.
Trending: The Evolution of the Modern Technology Stack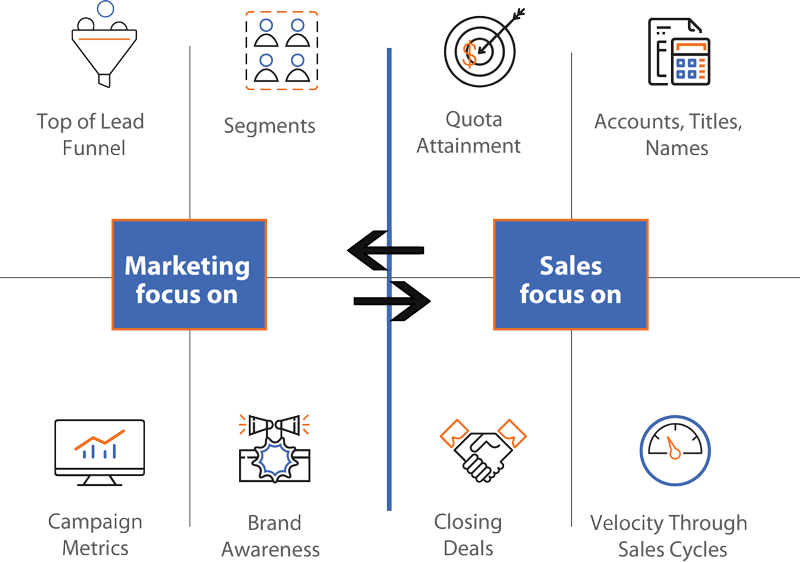 B2B Customers Online Behavior
For your customers, digital marketing plays an essential role in the early stages of the buying journey. Today's B2B buyers do things differently than their predecessors. Recognizing their changing behavior, especially in their use of online and mobile stations, is the critical point for B2B businesses. Within this new paradigm, buyers are much further down the pipeline of deciding before they connect with a sales rep. Recent research from Google indicates that the average B2B buyer is two-thirds of the way through the journey before talking to sales. Companies that don't engage customers efficiently online are at risk of opportunities before they are aware they exist. As we have written before, there's a new B2B customer out there. She's younger, digitally participated, and doing more and more business online and on a smartphone. The buyer's experiences and expectations are actively shaped by B2C leaders such as Apple, Amazon, and Netflix.
Optimized B2B Pipeline to Bridge the Silos
Marketing and Sales Teams are your organization's most crucial interpreter of customer needs and pain points across the B2B pipeline. Companies must offer a seamless transition from online engagement to offline interaction (both direct and through third-party partners) and ultimately to hands-on retention engagement that's focused on customer retention and growth, rather than just on requests for support. This approach will open new doors to sales and marketing alignment. Today, marketing plays the primary role in designing and executing the customer buying journey and has an expanded role in ensuring that customers are productively engaged and nurtured as they move through the B2B Pipeline. As consumers interact with companies across campaigns on different platforms, on various devices, giving your team a way to quickly and effectively measure engagement is crucial. Digital engagement offers marketers insights into the decision-making process and customers' key requirements and concerns as they advance toward a decision, with much different software's providing unique ideas depending on their functionality. These new insights needs to be centralized in "marketing operation centers" and "data lakes" to enhance the teams' alignment. Custom developed Salesforce CRM back-end environment has guaranteed such accessibility and to guarantee full life-cycle marketing.
Bridging the Content Gap
Smarketing is also getting more content-driven, particularly as it attempts to generate interest and awareness that engages buyers doing their research phase. Smarketing Teams must tell their product or service story that's persuasive, and that responds to customer purchasing signs. Companies that do not do this risk losing the interest of their customers, who can engage easily with competitors via digital mediums. This has led many companies to seek Content Management Systems to manage the growing amount of content needed to effectively engage all their customer personas at each stage of the buying journey. A single unified content management system as a part of Salesforce growth stack ensures a paradigm change in the alignment efforts.
ABM and Salesforce B2B MarTech
Sales teams that provide high-touch engagement continues to be a vital retention strategy for large accounts. To remain relevant and meaningful, Sales Teams must have access to a variety of information regarding the history and recent activity of the customer. This has led to companies adopting even more software into their technology stack as they attempt to increase conversions at the conversion step of the B2B pipeline. Salesforce writes in their blog, "Subcategories of MarTech — such as marketing automation platforms (MAPs), content marketing systems, and predictive analytics software — all exist because of their ability to integrate with the Salesforce CRM. Coming full circle, it's because of the ongoing evolution of all these B2B MarTech tools that the account-based marketing (ABM) revolution is here."
2019 Prediction: Full Life-Cycle Marketing
More than three-quarters of all B2B buyers, both small businesses and business customers, have only limited interactions with salespeople. Buyers rely on digital resources--such as supplier and third-party websites, videos, consumer reviews, blogs, and social media. And they're increasingly using mobile phones to get this information, primarily through search and social media. Changing customer behaviors have a couple of implications for companies who want to stay ahead of the curve.
Additionally, customers expect not only richer online engagement, but also multimedia and interactive content. The personalization and engagement that was the job of the sales rep now take place in digital channels. Companies are investing in technology, data, and analytics methods to enhance insights into customer purchasing behavior and help provide relevant, personalized content and experiences to buyers. Salesforce describes what's behind the change, "The benefits of data science are no longer restricted to just a few people with specialized skills. You and your team can now investigate more opportunities without waiting in line."
Marketing must become inbound oriented as customers increasingly seek out information online rather than in reaction to marketing solicitations. Companies need to know how customers are currently utilizing digital and mobile channels to optimize their B2B pipeline effectively. The omnichannel approach now required forces marketing teams to adopt a variety of platforms and analytics tools, often leading to an incorrect or incomplete picture. As your marketing budget grows in size, it becomes increasingly important to make informed decisions based on quality data, as it can be extremely time-consuming when using disparate systems. Hubspot describes the growing problem of product creep perfectly, "We're living through a renaissance of software. For every task inside a growing company, there are dozens of tools lined up to help… After a while, something starts to happen. As our list of tools grows, so does the amount of time and attention they need — the scale tips from our tools working for us, to us working for them. It starts as an inconvenience but can turn into a monster. We call it product creep."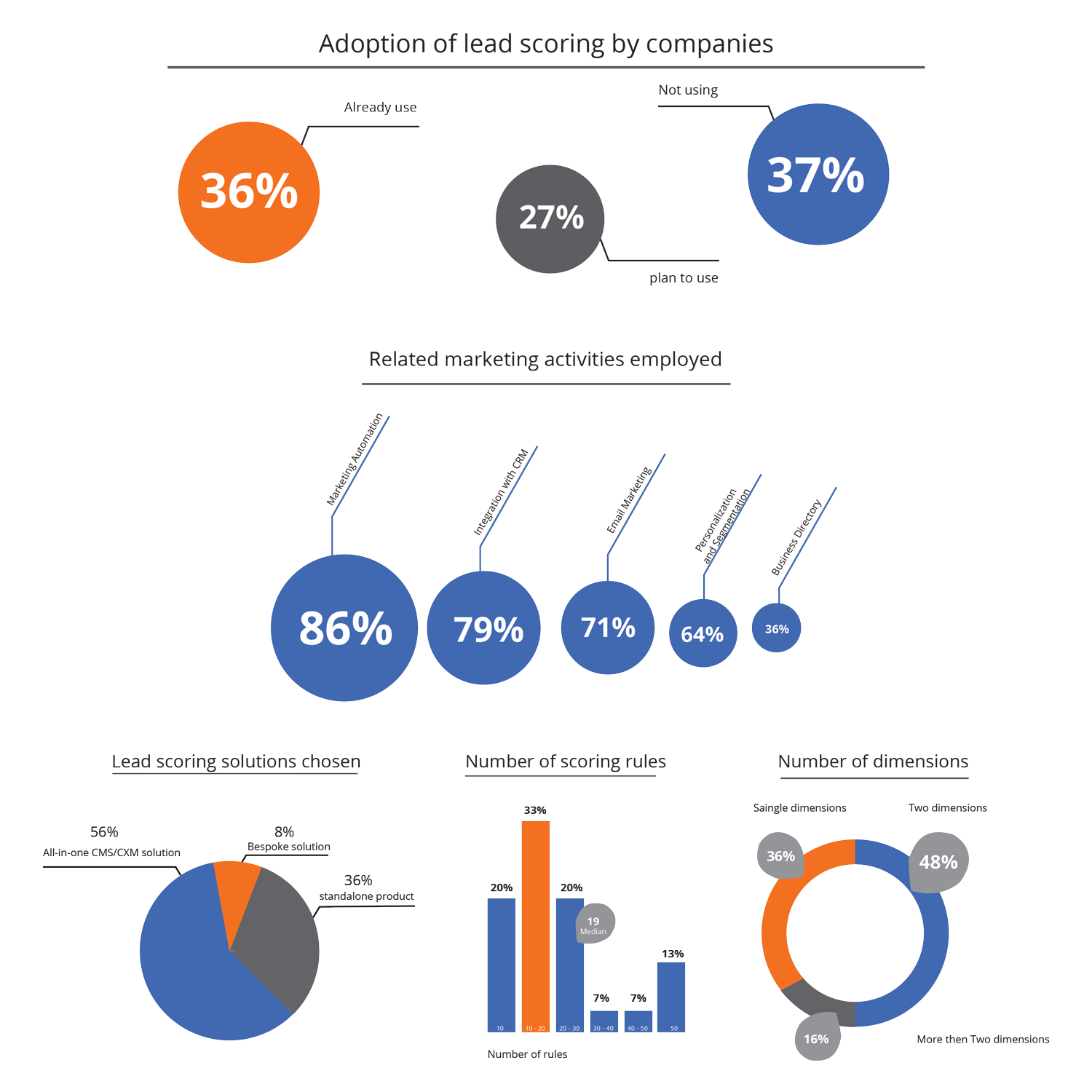 The Dangers of Piece Meal Solutions & Product Creep
When your organization utilizes a piece-meal solution, you're wasting your sales team time and skills on repetitive administrative work. In fact, on average only 35% of a salesperson's day is devoted to core selling activities. Your sales reps can help you find the bottlenecks that keep your sales reps from the core selling activities. Frequently switching tasks, such as exploring a sales prospect's contact information, to another, like information in a CRM tool, wasting time that could be spent on selling. As businesses embrace digital transformation, an integrated application environment can enable sales reps to accomplish more than previously possible (For example: automatically upgrade their CRMs while actively making and selling online presentations.)
Incorporating your CRM and marketing automation processes will adequately align your sales and marketing teams, create better communication, and result in better reporting processes. This will remove any duplicate, or time-consuming work, like manually inputting prospect contact information into Excel spreadsheets.
If your organization is currently struggling to align your marketing and sales team, there's a good chance the root cause lies with a piece-meal software solution. Salesforce Predictive MarTech Alignment includes tools that accelerate the sales cycle, creating efficiencies in either training sales teams, equipping them to succeed or assessing areas for improvement. Salesforce Predictive MarTech Alignment helps you measure your sales rep's functionality, keeping them accountable and motivated to reach their quotas. Salesforce Predictive MarTech Alignments creates effective and efficient access to data, as well as powerful insights. This allows your sales team to focus on what they do best: selling.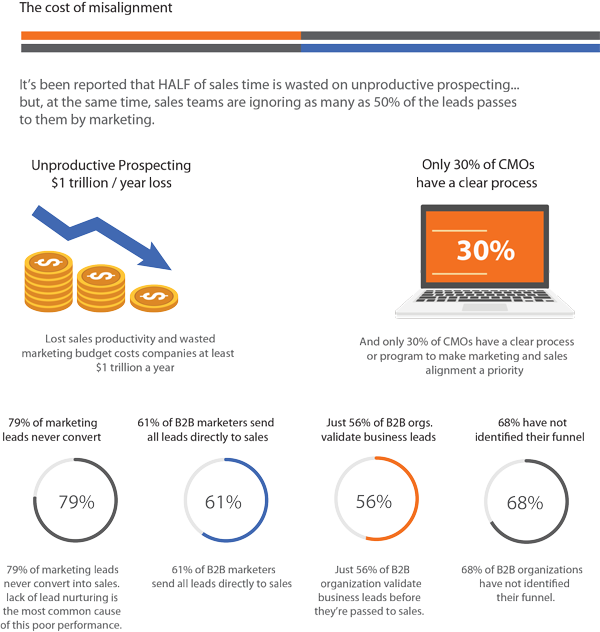 Trending: The Benefits of an Integrated Solution
Marketing teams are increasingly developing responsibility for making sure that an integrated technology stack exists to empower insights throughout your organization, in addition to supporting core processes and vital analytical functions. As marketing becomes increasingly driven by technology and data, marketing is now transforming into a more strategic role, with the additional responsibilities for managing the MarTech stack, in addition to managing demand generation, lead management, and funnel performance.
Our solution enables your sales and marketing teams to focus on identifying their best opportunities. Salesforce writes, "Integration of existing external consumer sources is the obvious step. More importantly, a simultaneous effort needs to be made to ensure that new consumer sources are immediately connected to your ecosystem." We provide a personalized methodology that provides an infrastructure on which to streamline all the software in your technology stack. We empower you to improve your customer experience by enabling you to react to customer requests and behaviors. This results in providing your sales teams with better-qualified leads, and empowering Sales teams will be able to respond to leads faster.
During the implementation of an integrated solution, we will streamline your practices and procedures, determine guidelines for success, and then tailor a development solution based on your company's unique technology stack. Our Salesforce Predictive MarTech alignment solution creates an integrated application environment based on the persuasive abilities of Salesforce CRM at the core, allowing your Sales team can concentrate on delivering the most relevant material at the right time. Improving the accuracy and accessibility of your data allows your Sales Teams to make better use of their sales cycles, improving overall KPIs and allowing them to make decisions faster.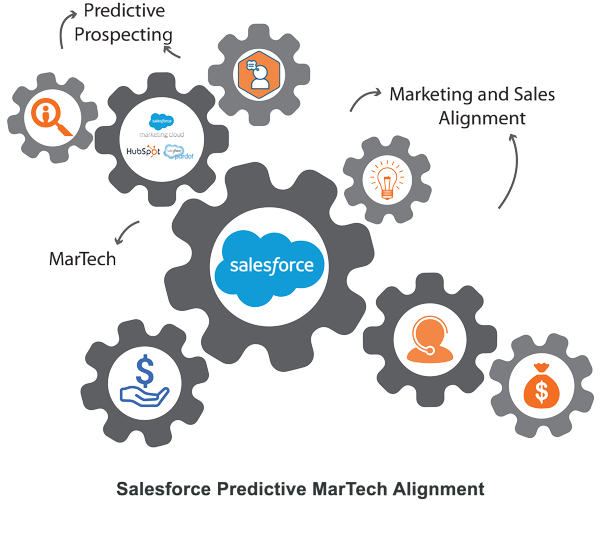 The benefits of Salesforce Predictive MarTech alignment can expand beyond the day to day sales as well. Salesforce.com describes in their blog, "Predictive account modeling can be a great help as you build your hiring roadmap because it lets you hone in on industries or regions where it's easy to justify an investment based on clear revenue potential. You can also use these data points to validate marketing hunches as you test-and-invest in new markets."
Wrapping it Up
Where is the sweet spot of all 2019 trends?
The growth in the size and complexity of the modern technology stack seems to have created just as many new issues as capabilities transforming Sales and Marketing alignment from linear to multi-dimensional and Holistic propellant. Although the unique abilities provided by each software make each essential in its way, the growth presents the risk of productivity loss as well as quality loss in your team's output. At precisely the same time, the importance of close collaboration between marketing and sales keeps growing. Inside sales teams have more information enabled by marketing engagement and must capitalize on this intelligence to coordinate with field and partner sales groups. Communication and active cooperation among marketing and sales teams, including strategy development and planning are essential to maximizing the return on your investment for every activity. This isn't possible without integrating your technology stack along the entire B2B Pipeline. With the incredible capabilities of Salesforce CRM at its core, our Salesforce Predictive MarTech Alignment solution allows your organization to maximize ROI at every customer interaction point.