Cyber Protection
Cetdigit is committed to supporting only the best in every technology that is vital for small to medium businesses and cyber security is not an exception.
Based on our detailed and in-depth technical analysis, we are offering Bitdefender's award-winning GravityZone platform as our recommended solution for your complete cyber defense.
We will take care of your cyber needs from risk evaluation to solution design and implementation and 24/7 network monitoring.
Need a robust and secure defense solution against cyber attacks?
Why Bitdefender GravityZone?
GravityZone Security Platform incorporates the key security functions required to enhance cyber-resilience: Risk Assessment & Mitigation, Threat Prevention, Advanced Attacks Detection, and Security Incident Response; all from a single, unified platform.

GravityZone relies on a single console/single-agent architecture with both cloud (Software as a Service) and on-premises deployment options.

Bitdefender is recognized as a cybersecurity leader by independent testing organizations, industry analyst firms and media outlets.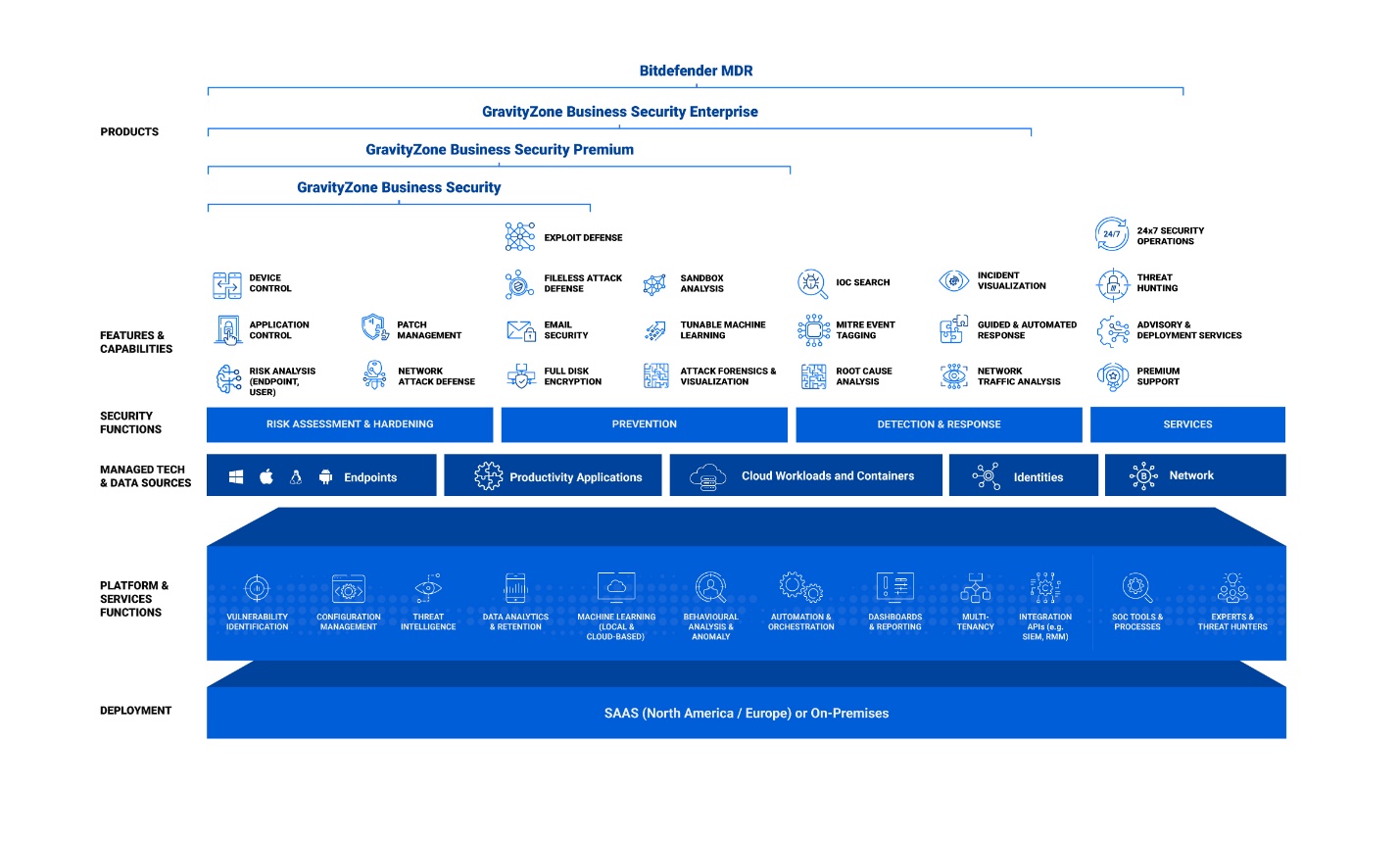 How Bitdefender GravityZone provides you with full protection?
Hardening and Risk Analytics
- Analyze Risks: understand the cybersecurity risks associated with endpoint configuration and user actions.
- Visualize Security Posture: get insights into identified risks and the prioritized list of items that expose the organization.
- Apply Hardening: reduce the attack surface and the associated risk exposure.


Prevention
- Effective Protection: over 99% of all threats are stopped by prevention technologies.
- Attack Visualization: full visibility and insights into the blocked attacks kill chain.
- Reduced complexity - through fully automatic and highly accurate technologies.


Extended Detection and Response
- Extended Detection: enhanced threat detection and visibility that enables the strengths of XDR for protecting endpoints.
- Focused investigation: threat visualizations at the organizational level for focused investigations and faster root cause analysis.
- Effective Response: automatic and guided incident response for fast containment of the attack.


No matter what your business size is, there is a matching solution for you
GravityZone comes in five editions. We will help you to select the one that's right for your business needs:
GravityZone Business Security Enterprise: Combines the world's most effective Protection with Endpoint Detection and Response (EDR) capabilities to help defend your endpoint infrastructure (workstations, servers or containers) throughout the threat lifecycle, with high efficacy and efficiency.

GravityZone Business Security Premium: Safeguards your organization from cyberattacks including Advanced Persistent Threats (APTs) and ransomware with more than 30 layers of machine-learning-driven security technologies.

GravityZone Business Security: A resource-efficient security solution providing high performance and protection while delivering centralized management, easy deployment, and the freedom to choose between a cloud or an on-premises hosted management console.

GravityZone EDR cloud: Monitors networks to uncover suspicious activity early and provides the tools to fight off cyberattacks. Threat visualizations guide investigations and maximize the ability to respond directly.
Why Cetdigit?
We want to give a solution that works for you – for that we first need to fully understand your problems.

We love technical challenges and won't stop before solving them.

We consider each of our clients as a unique case, so we think out of the box for unique solutions.

We won't call a project complete until we gain your 100% satisfaction.