Customer-centricity is a new trend in the corporate structure. And for good reason. Customer conversion is the backbone of sales and therefore the survival of a business.
In a customer-centric organization, the customer is always at the center of every effort. The team starts from the customer and works their way back. They think about what the customer wants and needs. Just then, they design products, services, and processes to meet those needs.
Customer-centric organizations are always looking for ways to improve the customer experience. The main goal is always to make it as easy as possible for customers to do business with the company. Hence, the main goal is to close more sales - the reason why we call it Smart Selling with AI and Data-driven technologies.
If you want to become a customer-centric organization, you find an insightful guide in this article!
Customer Centricity and Your Business
We know that it's not enough to simply satisfy our customers; we need to exceed their expectations. Your company should work hard to develop relationships of trust with our customers and always put their interests first.
A customer-centric organization is focused on the future. To practice customer centricity is to constantly look for ways to improve and innovate so that we can stay ahead of the competition and provide the best possible experience for our customers.
For instance, Customer Cultivation and Customer Segmentation are important steps to become a customer-centric organization. Fortunately, your organization can increase its conversion rates by providing personalized customer experiences. But how do you provide personalized customer experiences?
Luckily, offering personalized experiences comes easy with some customer lifecycle mapping. These maps will show you where your customers will first interact with your company. They can then show you how to lead them into a sale.
To get there, all departments must observe the same customer-centric culture to reach the same overall goal. Sure, each silo will have its own micro-goals, but overall, the silos should be heading in the same macro-direction.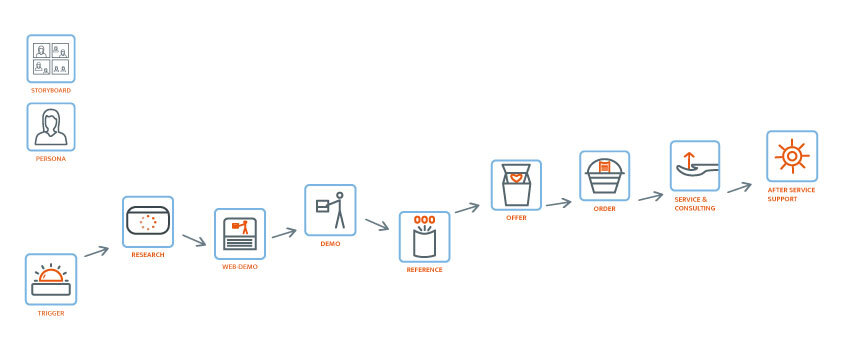 But how do we do that in a post-pandemic era, where everything is digital, and our employees are remote? How can you promote cross-silo activity in a digital environment?
It's tough. But the way you make this leap is through comprehensive customer journey mapping and transforming your company to be customer-centric.
What is a Customer-Centric Organization?
Companies must acquire and retain customers to survive. The customer-centric approach ensures your business never forgets this simple truth.
A customer-centric organization fosters positive personalized experiences throughout the customer journey. They do this by considering the needs of their customers in every business decision. The process builds customer loyalty, satisfaction, and referrals that can lead to even more customers.
The process also encourages employees to listen to the concerns of customers and offer workable solutions. In doing so, a customer-centric company always offers relevant products at the right time to meet the needs of its customers. They also provide a level of service that makes customers reoccurring advocates for their brand.
How to Become Customer-Centric
In our experience, adequately addressing this challenge requires a dedicated effort on three levels.
First, a customer-centric leadership structure must ultimately report to the chief executive. It should be designed to stimulate cross-silo activity and collaboration.
Second, leaders must commit to serving as role models to deliver customer-experience goals to frontline workers. They must refine and reinforce those goals over the long term.
Finally, having the correct metrics and incentives is critical for aligning typically siloed units into effective cross-functional teams.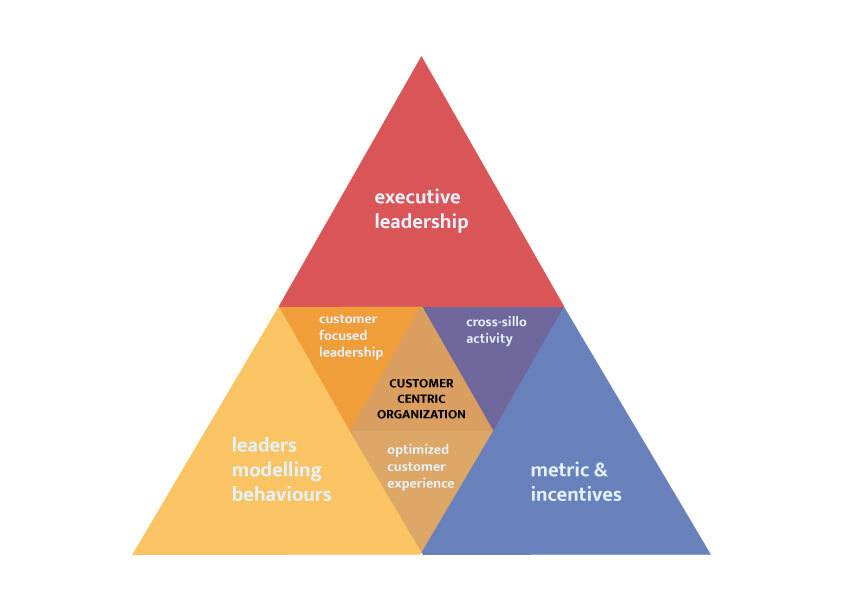 Executive Oversight at Customer-centric Organizations
As customer satisfaction is a top priority, your customer experience team requires executive-level influence to navigate an ever-changing political and social climate. You can no longer concentrate the responsibility on a single division. In a customer-centric organization, every division must work towards offering positive customer experiences. With that level of integration, the chief executive must directly lead the customer-experience initiatives.
Let's imagine a company with a customer journey map that has the following silos: marketing, sales, operations, and technical support. The marketing team creates the leads. The sales team makes the sale. The operations team keeps things running. The technical support follows up on any issues. Nothing new there.
Now, let's see how these teams affect the buyer's journey. The marketing and sales teams are pretty easy to relate to conversion. Marketing draws them in, sales seal the conversion. But what about the other two. Operations and technical support are still part of the buyer's journey and thus the mapping.
The operations team keeps things running smoothly so that the customer rarely experiences an issue. This leaves them with a positive experience of the brand, product, or service. This positive view may lead them to stick around and recommend the brand to others (free lead generation!).
The technical support team also serves an essential role in the customer experience. They are the ones who provide solutions that solve the customer's questions, issues, or required product/service upgrades. This is an opportune time for the company to provide technical sales, cross-sell, or consulting to the client. That's a lead generated from an already existing customer.
Now, in a typical organizational structure, each of these silos would report to a different executive. The strategies employed by each silo would be separate.
For example:
Chief Commercial Officer (CCO) or President for the sales and marketing silos

Chief Operating Officer (COO) for the operations silo

Chief Information Officer (CIO) or Chief Technology Officer (CTO) for the technical support silo.


In a customer-centered organization, that just doesn't work. Personalized customer lifecycle mapping requires looking at the lifecycle of the customer. Someone must understand and make decisions for the full scope of the customer experience from the initial contact to any post-sale service.
This level of decision making requires direct involvement of the Chief Executive Officer (CEO) with a cross-silo strategy
Modeling and Reinforcing Customer Customization and Personalization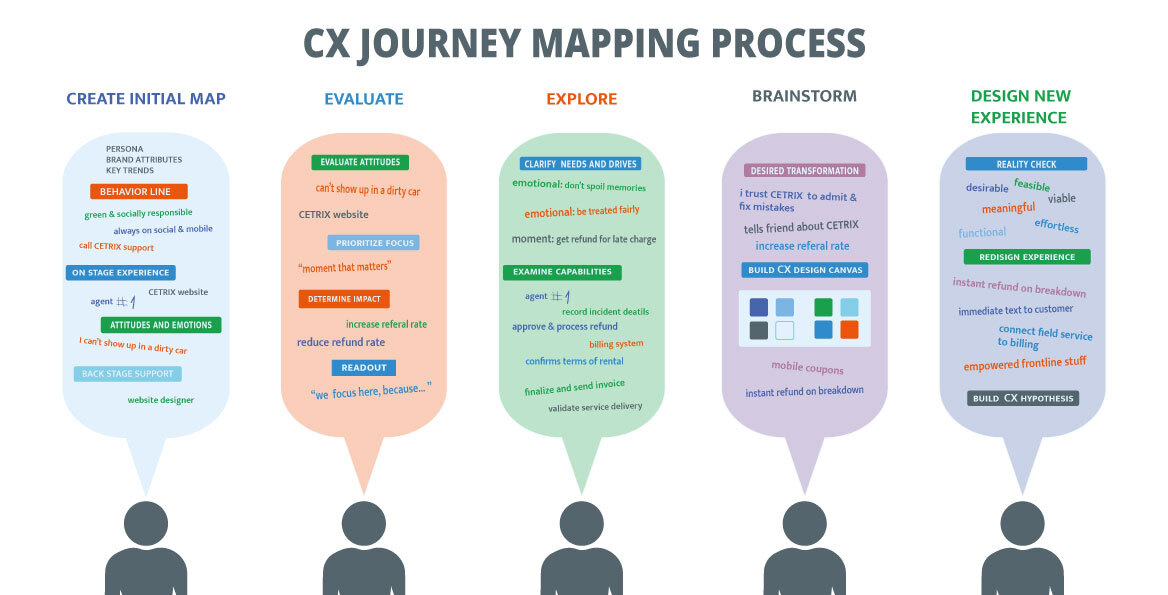 Within a customer-centered organization, leadership must exemplify the behaviors they want to see in employees. Creating a positive customer experience takes the whole team working like a well-oiled machine.
Frontline workers, in the trenches, can easily lose sight of the company's goals and initiatives without regular reinforcement. They are preoccupied with providing assistance or services in a timely, cost-effective, and efficient manner. And these are all essential pieces of the customer journey. However, leadership has a bird's eye view of the customer lifecycle and can provide the scaffolding needed to keep customer-experience goals in the forefront.
This could be as simple as addressing customer questions or concerns in a timely manner. A leader who is not willing to put aside some of their own duties or spend their own time for customer needs demonstrates to employees that they don't need to either.
On the other hand, if an employee asks their superior for help on a customer issue, the superior could put aside some of their other duties in order to address the issue promptly. The customer lifecycle includes not only the things the customer sees or the words they hear but also the time required to meet their needs. Having a leader who is willing to be inconvenienced by a customer's need demonstrates to the employee what customer-centric is all about and how important the customer experience really is to the company.
Each goal your company sets for improving the buyer's journey needs to start with modeling and reinforcement by leadership, in order to keep a consistent message and strategy. This might mean providing training, workshops, or coaching for leaders as they implement new strategies.
Evaluating and Incentivizing Personalized Customer Experiences
As part of the customer life cycle management process, you must establish metrics and incentives. These are the driving forces behind adapting and improving your customer journey mapping.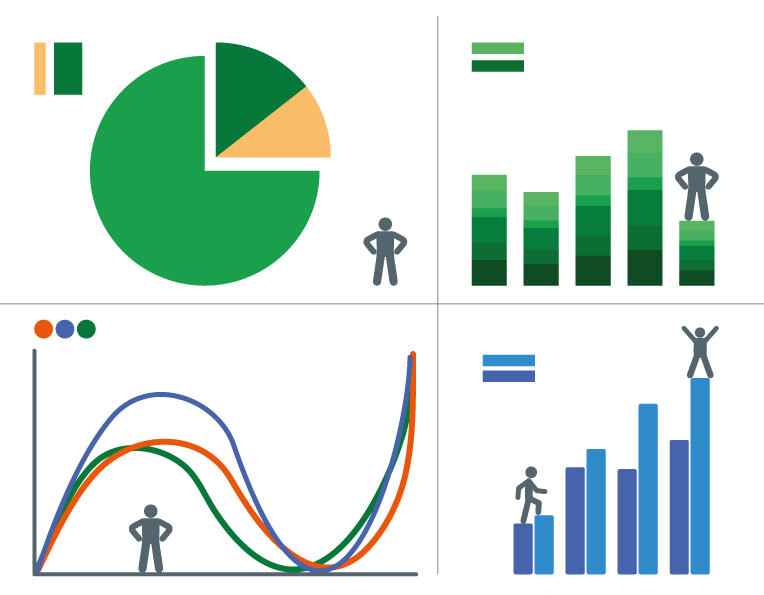 Customer Customization and Personalization Metrics
Metrics ensure that goals are being met. The metrics you choose will depend on what you know about your customers, what strategies have worked in the past, and your company goals.
Not sure where to start? According to Forbes, these are the best metrics to use for customer experience initiatives:
Net Promoter Score

Sales

Customer Loyalty

Customer Engagement

Customer Retention

Employee Satisfaction

Customer Effort Score

Customer Acquisition

Customer Lifetime Value

Customer Satisfaction

Churn Rate

Average Time Resolution

First Contact Resolution

Visitor Intent

Task Completion

Stock Price

Contact Volume by Channel

Social Listening

Referral Rate

Cart Abandonment Rate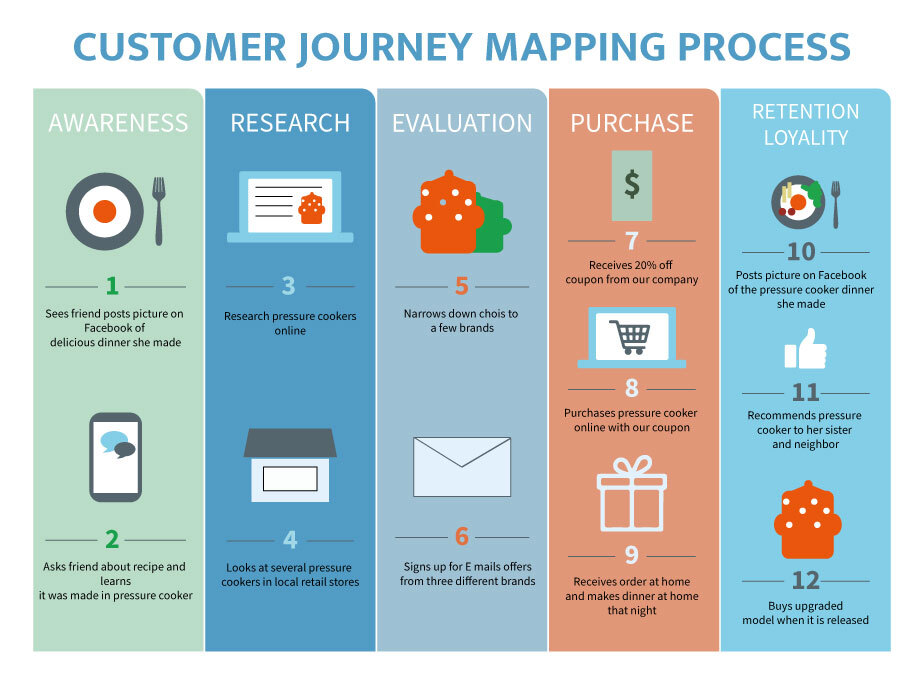 Focusing on customer relationship management (CRM) is the best way to streamline your marketing. This means keeping track of metrics like customer engagement, customer loyalty, and customer lifetime value. These metrics help focus your customer lifecycle mapping on building customer loyalty while making a sale.
This is especially essential when your customers only need your product or service occasionally. In the world of information technology, for example, a customer may purchase a digital service and then let that service do what it was made to do. As long as nothing goes wrong, the customer doesn't have to think about the software. That's a good thing for the customer. It keeps them satisfied. Sounds great, right?
But then think about how that same customer can recommend that digital service...but can't remember your company's name. They also won't consider purchasing other services from you in the future, because honestly, they forgot you existed. They never interacted with you after the sale, so they don't know who to recommend or who to purchase from. This is why personalized customer engagement and loyalty are so important. But how do you improve these metrics when the digital service is quietly doing its job?
Incentivizing Customer Personalization in Ecommerce
This is where we return to customer lifecycle mapping and look for other options that might increase engagement and loyalty. The customer lifecycle shouldn't end with the purchase.
Incentives give clients reasons to keep interacting with your company. These interactions also let understand what customers like and dislike, respond to or not. Incentives drive action, and action is measurable. Without the customer or potential customer taking an action - which could be as simple as clicking a link in an email to visit your website - a company has virtually no way of knowing if its techniques were effective or not.
An incentive for a customer might be:
Reading an article to learn more about an interesting topic

Sharing your content on social media to enter a sweepstakes

A referral program with rewards or discounts

And many more.
No matter what the incentive, you need to provide a personalized experience that keeps your customers interacting with your social media posts, webpages, emails, etc.
This might sound like a lot to keep up with. It is. There are many options for services that will help your business automate customer relationship management. Salesforce is one such platform. They have a wide variety of metrics available, but Salesforce recommends you use the following 12 metrics to get the most out of your customer relationship management tools:
Leads by source
Where did the customer come from?
Open activities
What do I need to do next?
Open cases
Which customer should I engage with next? Which cases require the most immediate attention?
Open opportunities
When is it time to grow my pipeline?
Opportunities past due
What opportunities am I missing? Where do I need some help to make sure we don't miss opportunities?
Closed opportunities
How much revenue have I already generated? How close am I to my goals?
Sales cycle
How long, on average, does it take us to seal the deal? Are we getting better?
Pipeline
What stage is the customer at in their journey? Is it time to close this deal?
Sales by closed date
How long do customers typically take to convert? What trends can we see?
New business and upsell ratio
Are we selling enough to existing customers? How often are we upselling?
Win/loss rate
How often are we pitching and hitting that home run? How often are we pitching foul balls? What are we doing to improve this ratio?
Product gaps
What research needs to be done on our products? Are we delivering what we promise?
We have included below each metric some questions that they might prompt or answer for your company, to show you how these metrics can drive customer lifecycle mapping.
Overall, mapping the customer lifecycle without fully understanding the customer experience is a waste of time. Metrics are the main way you can understand their experience, at least the aspects that are essential to the success of your company.
Customer Personalization for Customer-Centric Organizations
What is Customer Personalization?
In your quest to make your company customer-centric, you must enact a customer personalization strategy that reflects that culture.
Customer personalization is a marketing strategy where you provide your customer's customized communication and experiences based on their individual information. Each interaction comes tailored to their specific needs and requirements, offering viable solutions to their specific problems. You can even personalize the communication channel.
The key is collecting and processing any customer information you may have. Processing this information lets you segment your customers into preference groups. From there, you can tailor your marketing endeavors to target these groups to maximize their effectiveness.
What makes personalization truly special is that it continues long after the sale. This is because it also requires you to provide unique and tailored sales processes and support services. It is this curated approach that leads to improved customer loyalty and satisfaction.
How Do AI and Machine Learning Improve and Provide Personalized Customer Experiences?
All those benefits mean nothing if you do not have enough actionable data or the tools to process it. Sure, you can gather the information through your website, mobile apps, emails, social media, and other channels. However, the data would be raw, seemingly unrelated, stored in multiple locations, and difficult to use right away. Even if you could process it manually, it would be impossible to scale.
Fortunately, you can use artificial intelligence (AI) and some machine learning techniques to process your customer data into something useful. AI platforms can even make the data available in your organization, allowing for seamless and consistent transfers as customers move between units.

As such, your organization becomes more agile and attuned to the changing needs of your customers. You would know what services your customers to move them to the next step in the buying journey. Your customers would enjoy these consistent experiences across all your channels as well.
How to Achieve a Personalized Customer Experience?
Creating a personalized customer experience sounds daunting. There are numerous challenges to overcome before you figure out who to split your marketing team accordingly. For instance, you must legally collect customer information before you can tailor your communication channels to it.
Fortunately, there are a few simple steps you can take to overcome these challenges. With these steps, you can craft the highly targeted, personalized content and service your customers want and demand.
Collect Data Legally and Discretely
Despite the fears, you can easily collect data on your customers discretely in compliance with all privacy laws. Your customers want to give it to you. You just have to ask. Some common ways to ask for the data include:
Provide email feedback forms

Conduct

customer surveys and opinion poll


Gather user behavior through website analytics

Track social media activity from social media followers and subscribers
Use Demographic Data to Segment Your Audience
Demographic data often reveals distinctive customer behaviors and preferences. For example, zip codes may indicate:
Socioeconomic profiles

Distance from retail locations

Average income

Average age

Ethnic ratios

Youth or college student populations

Even married versus single statistics
Other major demographic indicators include:
Location - local, regional, and global markets

Education and annual income

Online shopping

habits

Age and gender
You can use this data to segment your customers into representative groups. These groupings will improve your predictive models and simplify your efforts to create personalized content.
Offer AI-Powered Incentives and Personalized Recommendations
AI can offer dynamic personalized content and incentives in real-time. These tools ensure your customers always receive targeted messages that yield predictable results. For instance, they can continually alter your personalized incentives based on how customers respond to them to maximize the returns.

Personalize Cross-Channel and Multi-Channel Content for Streamlined Customer Experience
Your customers want to access your product information and services from their desired devices. They also want to seamlessly continue to use a service after they move to another device. A customer-centric organization would gladly offer this personalized service.
Thus, you must provide a seamless personalized journey from advertising to the completed sale and beyond. You need dynamic product pages based on user preferences. Marketing messages must be tailored to your customer's preferred social media platform. You then must provide the right customer service to keep your customers satisfied throughout a product's lifecycle.
Review and Continuously Improve Your Personification Efforts
Customer personification is not a one-time activity. It is a process that requires continuous review and optimization. Your customers' needs and requirements can and will change over time, and you must adjust your efforts accordingly. At best, a single personalization campaign may only be good for a couple of weeks. As such, you want to regularly analyze the results so you can modify your message, products, or both.
Examples of Customer Personalization in Ecommerce
Your customer personalization efforts should focus on encouraging true customer loyalty. As such, you should take any opportunity to cultivate the relationships you have with your customers.
However, these relationships form an ever-changing dynamic landscape. There is no one-size-fits-all solution. You must engage your customers where they are and tailor your personalization efforts to their situations.
That means you keep your content dynamic as well. Luckily, you can use a handful of personalization tools to generate unique content such as:
Personalization product pages and websites
Customer-specific product recommendations
Personalized search
Tailored email correspondence
Resharing social media posts
Personalized customer loyalty rewards
Relevant and timely social media content
Final Thoughts on Becoming Customer-Centric
In order to become a customer-centered organization, an organization must:
have executive leadership that promotes cross-silo activities related to the customer

experience

have leaders committed to modeling behaviors that deliver customer-experience goals to frontline workers

and have the correct metrics and incentives for optimizing the customer lifecycle
At Cetrix Cloud Services, we are here to help you develop a plan for integrating and automating a positive customer experience. For more information, visit our Why Cetrix? page or contact us at info@cetrixcloudservices.com. We look forward to hearing from you!