What is the role of Salesforce in Education?
You have probably heard of Salesforce: the second most-searched employer on LinkedIn and one of the top eight companies to work for according to FORTUNE. This reputation has been earned through changing the employer-employee dynamic by emphasizing the positive as well as fostering a culture saturated in mutual-respect. Let's look into how this fundamental change in thinking with a willingness to upset traditional procedural modes has translated into impactful gains for the education sector.
What is Salesforce?
Salesforce is a company that excels at Customer Relationship Management or CRM. Founded in 1999, Salesforce is revolutionizing the Customer-Producer relationship by championing cloud-based software solutions. Implementing the software for educational purposes is creating dramatic improvements and setting a global trend for the industry.
The CRM system from Salesforce
With the advent of their first CRM solutions, Salesforce products have run entirely on the cloud. Cloud-based software provides cutting-edge technology with no additional hardware or software required outside of the device on which the system is being accessed. This keeps maintenance and installation of expensive systems incredibly low as there is none. Armed with an internet connection, the system can be accessed anytime, anywhere in the world, using any device. Salesforce also offers three free upgrades which is ideal for all education business types. This scalability has designated Salesforce as the number one Sales Cloud CRM system.
Salesforce offers its customers numerous products and services, all offering a unique cloud integrated experience. Its offerings benefit the needs of the education sector while also helping the business end grow exponentially.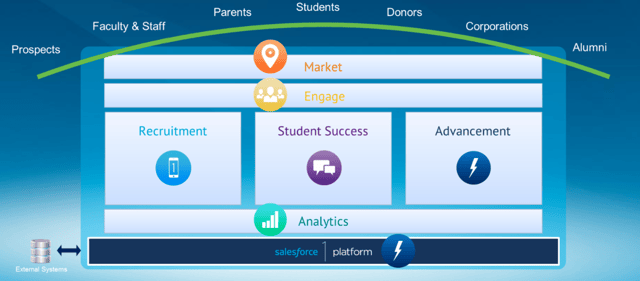 Connecting Education with the market
What Salesforce offers in Education
Salesforce has been committed to providing services which aid in the designing and deployment of education applications around the world. With the number of electronic gadgets increasing each year, more kids are engaged in a wide range of electronic devices. In-line with any other industry in todays world, education has been compelled to move a lot of its offerings online. You can find online documentation, help material and online tutorials on a wide-range of subjects with more content being unveiled daily. Salesforce Education Cloud and Higher Education Data Architecture (HEDA) aims to provide the most state-of-the-art tools through its cloud platform services enabling instructors and businesses from the education industry to perform as advantageously as is technologically possible while targeting a global audience.
The education industry is growing each day and so is the demand for more education apps and platforms from which instructors and students can interact in a more personal way. With Salesforce, you get to create your own apps very easily and quickly as well as taking any custom-built apps you may already have and target a larger audience. With App Cloud, you can transform your ideas into reading mobile business apps.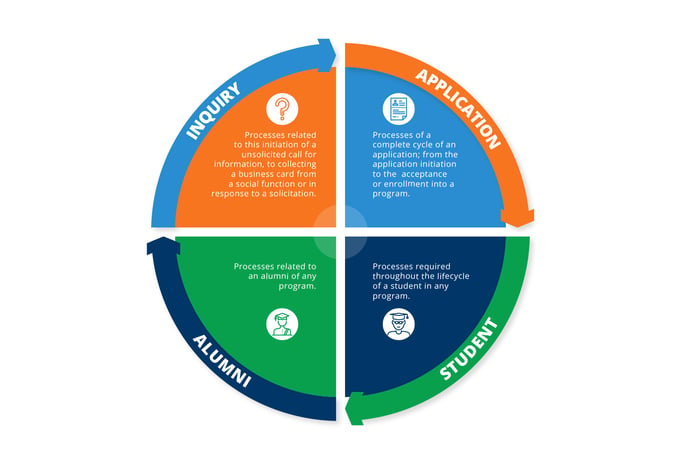 Various aspects of Salesforce in education
Why use Salesforce in education?
Some of the benefits of Salesforce Education Cloud and HEDA include:
Enhancing communication with the target-public with its cloud services. Salesforce helps to build collaborative apps which connect all the members of the community to a single platform.
The community cloud from salesforce helps to accelerate the sales channels of the educational apps and connects with the product teams through direct feedback.
Harnessing the power of social media and mobile environments for transforming productivity.
Connecting directly with the partners, distributors and resellers.
With the App Cloud from Salesforce, it becomes easy to deploy apps and updates with a single click across the enterprise.
Connecting devices, customer data and app data onto a single platform
Building next generation of educational applications with complete as well as open APIs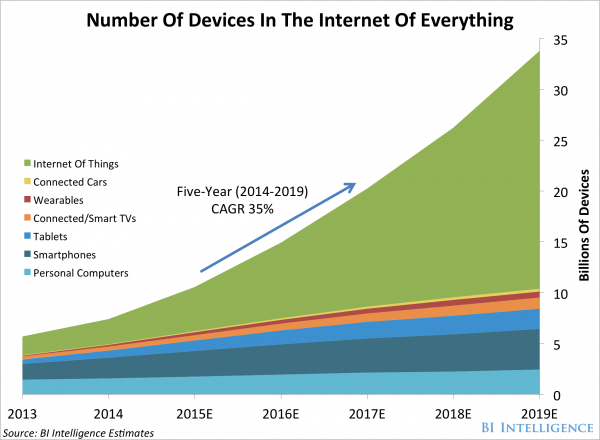 connecting them on a single platform will increase by 2019
Conclusion
With the help of Salesforce, you can build apps into a single, more secure and scalable platform. This makes customizations as well as any upgrades a breeze. The power of the Salesforce App Exchange, which is currently the largest business app marketplace in the world and, helps create and maintain apps with all the currently available security details in place. These best-in-class educational apps allow for the existence of a collaborative and interactive environment where students, teachers, parents, and other concerned peoples can interact and share their ideas.
Community Reimagined
Imagine a single, unified view of every interaction with prospects, students, alumni, donors, and affiliates available on every device with every piece of information actively present. Salesforce accomplishes this with ease. With real-time reports and analytics, data available in one place, available at any time, you can expand your reach and uncover new opportunities with analytics through the power of Salesforce Education Cloud and HEDA. Need help with your integration strategy? Contact our consultants and we will work with you to devise the perfect integration strategy, approach, and plan that will work with your budget and current infrastructure.