Hyperautomation
A guide on how to do business in a better way using Salesforce as the core to your digital transformation.
What Is Hyperautomation And Is It Right For My Business?
Defining hyperautomation (and not hyper automation or hyper-automation)
Hyperautomation refers to a set of processes and tools used to orchestrate and scale the development and deployment of automated systems throughout enterprise businesses. Hyperautomation is separate and somewhat distinct from stand-alone business process automation (BPA) while some of its challenges to implementation and optimization are the same.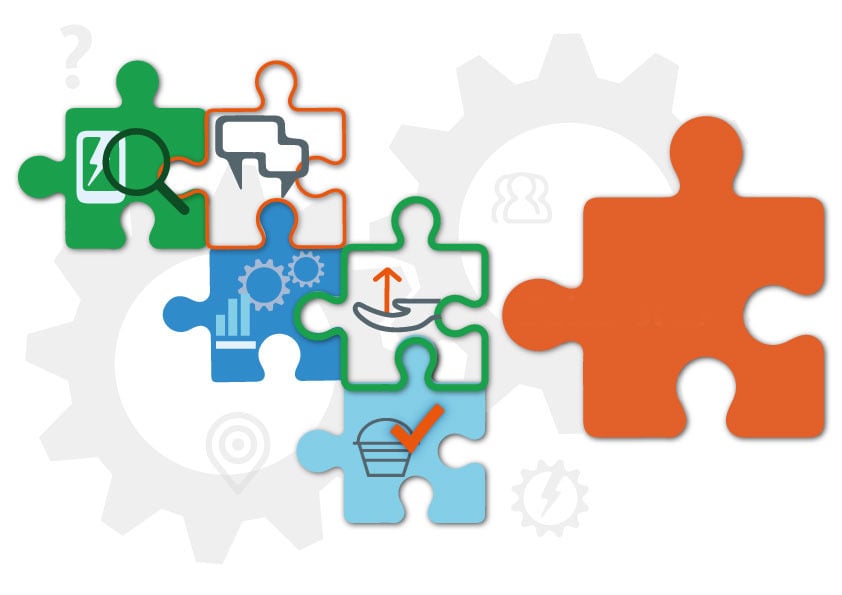 Hyperautomation is the next step in business automation, leveraging advancements in AI and machine learning to execute a more integrated and complete process automation across platforms, teams and departments. Full end-to-end automation, as opposed to simply streamlining specific tasks with automation, with either single software or stand-alone iPaaS, is the basis for future business agility and is a core component future-proof Digital Transformation.
A reduction in manual errors, an elimination of mundane tasks, better workflow (and communication) with fewer steps, has the potential to be applied business-wide with Hyperautoation. Hyperautomation not only encompasses a set of technological processes but serves as a holistic transformation for digital, business and human components. Incorporating AI and Decision-Making processes not only automates task-specific human activities but when properly mapped out, as the potential to fundamentally change the way you do business through optimized workflows.
Some commonly automated processes include employee onboarding, marketing, and inventory management. Hyperautomation is also occurring at the IT level, within which laborious processes such as DevOps runbook are streamlined with precise alerts, messaging and notifications, with complete stack monitoring to achieve more integrated system management. IT automation can also help prepare for rapid and holistic process automation. Many of these are also candidates for full hyperautomation and full business process transformation.
Digital Transformation as Hyperautomation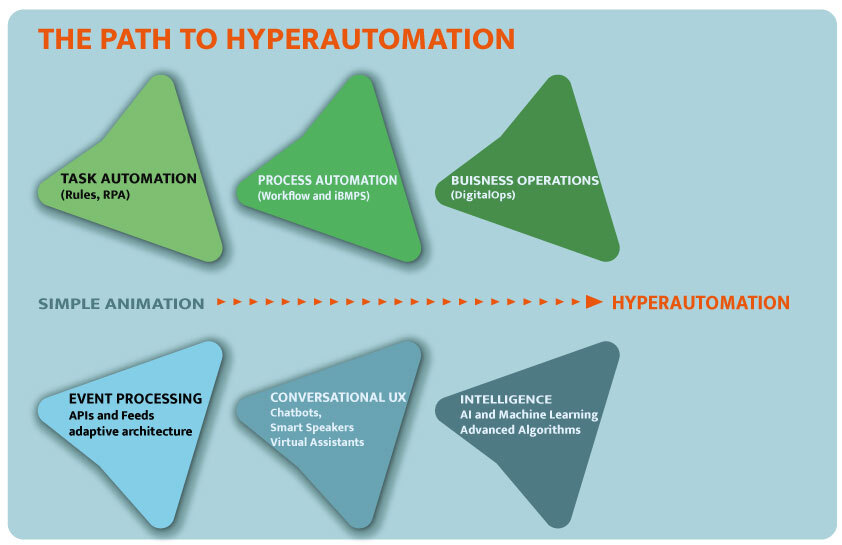 Hyperautomation encompasses additional digital technologies that have been influencing a range of cloud-based, legacy and hybrid systems. This strategic technology trend supports real digital transformations, and is having a dramatic impact on businesses that embrace it.
Central to this transformation, Hyperautomation relies on robotic process automation to employ digital workforces that mimic certain human activities like data analysis or systems navigation. If a task is performed by a human, software applications can be programmed to perform any repeatable pattern or workflow.

While businesses have been reaping the benefits of BPA using RPA's executed by solo, task-specific softwares for a number of years, Hyperautomation represents the first opportunity overcoming the limitations inherent to this approach. Not the least of which is scalability.
Doing so requires understanding what tools are at your disposal and using them to target opportunities for a more integrated and goal-oriented automation implementation (link to roadmap paper). Technical problems can arise when baseline programming dosen't transfer to new processes or creates new barriers to workflows. Failing to plan for these can risk raising the hurdles to automation adoption, not the least of which is workforce blowback. Lack of process standardization can also create uneven results and hamper ROI.
You may be thinking that your company cannot benefit from hyperautomation because you've been slow to adopt or optimize your current automation or perhaps fear of additional or unexpected costs.


But In fact, being 'behind' could be an advantage and total game-changer if it forms part of a broader digital transformation strategy. If your organization is constrained by repetitive manual processes, siloed business units and legacy systems, implementing RPAs within cloud and hybrid-cloud systems could enable you to gain significant efficiency and make sense to do so concurrently with application integration or cloud adoption efforts.
Human Transformation through Hyperautomation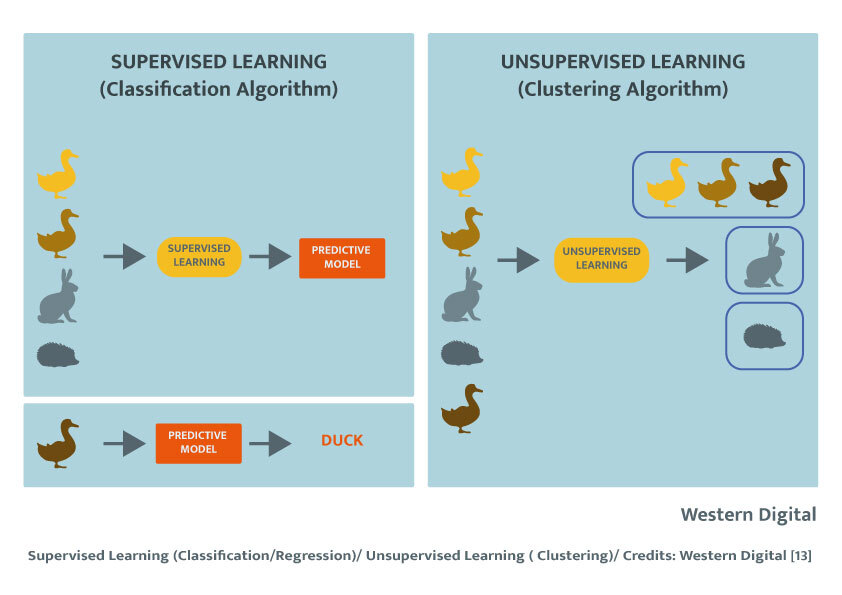 The term digital labor is becoming a buzzword, and it applies to the way digital transformation impacts a human relationship to the technology and how they can maximize value for your company. This is especially true in regards to deploying automated processes and transitioning to a new model. The opportunity to delve into what serious workflow disruption with automation would look like as a result of the COVID-19 pandemic and WFH.

These circumstances offered companies insight into how to determine what are an individual's contributions - and weaknesses. As such, teams have sought to streamline processes both personally and as a group, in response to a new set of daily tasks that require access to new, off-site systems with unique workflows. Many companies have used these unique circumstances to accelerate their digital transformation, committing more resources to cloud to enable a smooth provision of services and more elasticity in the day to day resources required, sometimes automating those based the emerging predictability of IT resources amid a rapidly automated new normal.
In the case of ongoing transformation, your team will already be modifying its administration and maintenance points and processes. As luck would have it, we support significant digital transformation for a number of cloud-based, legacy and mission-critical systems.
Hyperautomation's unique promise
Hyperautomation has three main components:
Automation

Orchestration

Optimization
The core feature of the automation and also Hyperautomation is the use of RPAs and associated scripts and programs them to observe human digital behavior and replicate its core actions in the form of rules-based processes, with Hyperautomation advancements in machine learning and AI are bridging new process gaps by orchestrating families of artificial intelligence capabilities to intelligent business operations working in concert to adapt to new conditions and maintain consistent desirable outcomes.
Automation, in tandem with advanced machine learning and AI that will build on its ability to learn human behavior while pivoting to the scaling and and optimization of uniquely robotic approaches to processes. This will eventually make process automation more proactively workflow agnostic, while also being more diagnostic in determining what input it needs from its human counterparts.
The key technologies:
Natural language processing (NLP), which lets bots interpret human speech Optical character recognition (OCR), which lets bots convert images to readable text Machine learning (ML), which lets bots identify patterns in data Machine Vision (MV), methods used to provide imaging-based automatic inspection and analysis for such applications as automatic inspection, process control, and robot guidance.
Optimally designed systems will benefit from robust, data-supported, self-reinforcement and remediation AI and ML technologies that interact with a human workforce in a more harmonious or orchestrated way. With the goal being true end-to-end automation, by blending self-learning (i.e. non-deterministic automation) with a transfer of knowledge from one domain to another. In the long term, this will force a reexamination of workforces and their role in an enterprise business focusing on end-to-end process completion rather than the execution of repetitive or even domain-specific tasks.

This allows enterprises to monitor, measure, and prove the business outcomes facilitated by automation to promote continuous growth by enhancing both customer-facing processes and internal ones. This saves costs, boosts productivity and promotes efficiency gains throughout both the automation and hyperautomized processes, while also capitalizing on the data collected and generated by them.
Automate to Hyperautomate (or Hyperautomate to Automate)
The problem, if you're deploying any number of the aforementioned automated and intelligent-modalities in your enterprise, has been their transferability and scalability. However, without an enterprise-wide strategy, performing true hyperautomation, as opposed to what's simply a longer list of automation silos, acting independently and absent any actionable input or output variables. While many automation tools have developed into out-of-box and one-size-fits-all solutions, enterprise hyperautomation requires more customization that not only industry, company and process specific but connects automations at logical points.
To be clear, these issues are just as much at the heart of fully-optimized basic automation scenario but understanding those challenges is key to understanding the conversation emerging around Hyperautomation. In essence, Hyperautomation is about creating a framework for the strategic deployment of various automation technologies, including RPA, separately or in tandem and augmented by AI and machine learning to make it more scalable.


Steps to Hyperautomating
While several templates for hyperautomation exist, (discover, analyze design, automate, monitor, measure, reassess) the truncated version below provides an overview of the broad organizational direction needed to move forward.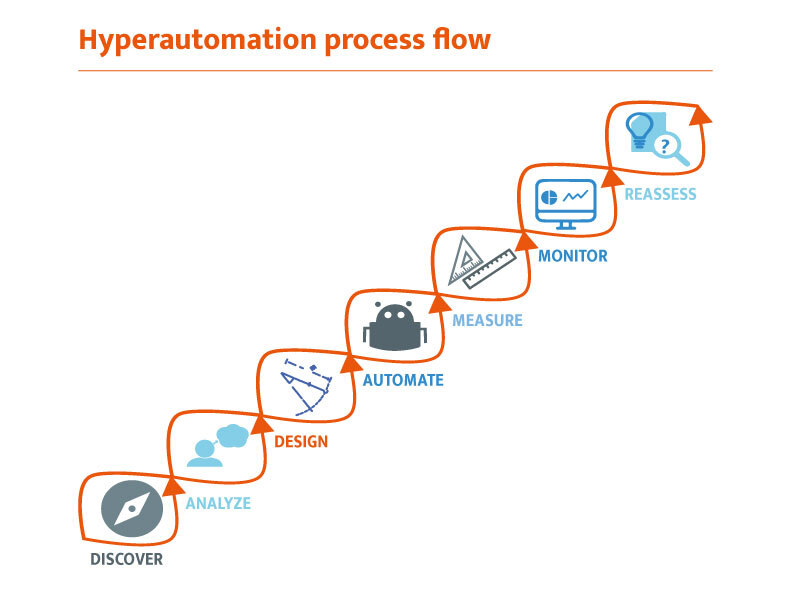 Process Mining

(Yes, Again): Process mining is essential to any automations effort and businesses conducting previous procedure analysis will want to consider opening the books and finding areas of improvement. You're likely to at least have key new team members who's input you'll want to consider and there will likely be opportunities to do so at any of the discovery, conformance and enhancement stages (Link). If you're processes have changed quickly, like most enterprise institutions - or your in-use applications - you may want to toss out previous programming frameworks altogether.
At its core, process mining helps Identify process inefficiencies. Process Mining and Discovery/Analytics Process mining includes discovery, monitoring and improving real processes by extracting knowledge from the event logs readily available in application systems. Discover, monitor and configure tasks that can be automated, extracts knowledge from events readily available on a workstation or captured from screens. Then, create process documentation and auto-generation of process simulation models. After application, repair or scale model. Eventually, you'll compare historical data to analyze current performance and eliminate remaining inefficiencies.

After integrating process mining tools with your BPM and RPA platforms to optimize process automation by discovering,monitoring and analyzing business processes,tasks and interdependencies.
Data Extraction/Needs Analysis: Most often in identifying repetitive tasks both other times it can be an issue of assigning manpower most efficiently. Too many 'cooks in the kitchen' spoils the dinner for both your customers and workforce. Some like to prioritize issues to their digital and personnel workflows, while others eat the whole automation pie in one bite.
In enterprise businesses, the focus is often on using RPAs to accelerate integration to tactically streamline existing processes, with the desire to create connected, end-to-end automation across processes and workflows. While RPA'/scripts have the potential to automate a variety of tasks, not all represent a true business opportunity and are a scaling dead-end, limiting their benefits and reducing ROI. Processes targeted for should be simple, routine, repetitive and stable but should also demonstrate the potential to reformulate business processes with AI, Decision Making platforms and process optimization.
AI technologies can assist your organization here, as well, allowing you to record workflows and produce process maps. For builds using iPaaS, no and low-code drag and drop templates allow you to choose from pre-automated activities and build processes that are scalable and transferable. Assists from 3rd party or internal Code C# programmers will aid in customization and portability. Depending on where you are in your automation journey, applying these steps can be simple or challenging. Have us do an audit of previous process mines and automation efforts to find out.
Applying this agile approach makes risk and rework more manageable, thus expanding the likelihood for experimental builds becoming the processes you lean on. By adopting them before you start your automation project, your team is more likely to find the most optimal and long-lasting changes.
Process standardization: This is one of the most problematic aspects of implementing automation. The more complex the process the more difficult and costly it to automate. Complex use cases increase both operating costs and business disruption because, as processes become more complex, unpredictable, and fragmented, the cost of automation build rises. It may take the formulation and implementation of several process models prior to honing a standardized process.
Organizing the complex interdependencies between technology, business processes and human input requires identifying opportunity and configuring hyperautomative processes in a way that makes sense for your business and workforce.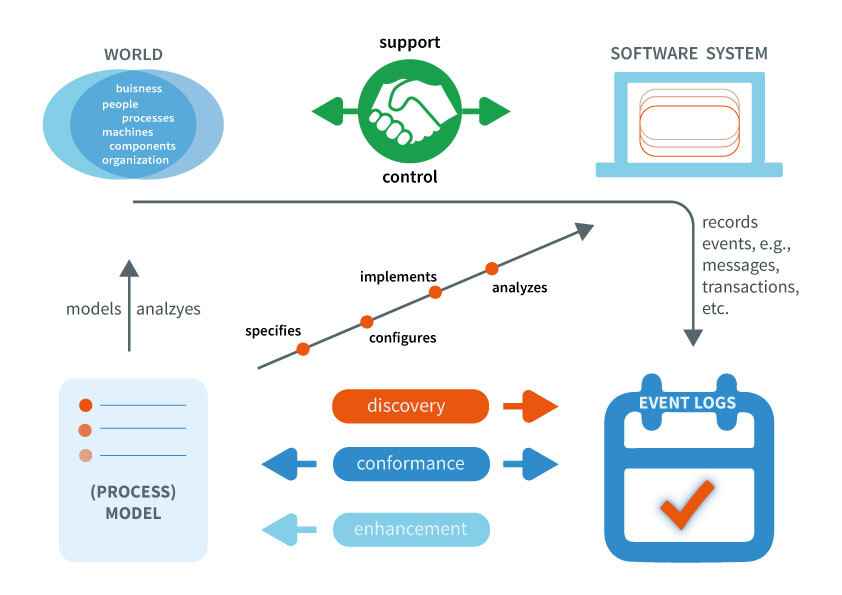 Decision Management Suites (DMS) and Business Rules Management Systems can help here, in addition to earlier steps. Building and standardizing process models by improving the approach and application of RPA technologies in a way that captures the whole process is a function vital to end-to-end hyperautomation. DMSs and Business Rules Management systems supplement conventional application development and runtime tools, especially when a business application includes decisions that entail complicated or frequently changing inputs. Therefore, you can reduce the need to review and repair RPA deployment by gaining a more precise standardization process that incorporates more complicated and most likely, in-house custom scripts and the variable business rules and policies they are based on. Even the most reliable and up to date RPAS will still need maintenance.


DMSs/BRMSs establish parameters, generate powerful predictive models, and seamlessly aggregate data with the intent of highlighting the key variables of a given business process and context to narrow down a list of possible outcomes and how various technological, human and exterantious inputs can impact your bottom line. This provides clearer objective, quantitative data sets that are tied directly to qualitative outcomes as opposed to analytics that are too often abstract and don't take into explicit account human intervention. Software-simulated decision trees lets planners see what set of choices is most likely to produce a given outcome and what the expected costs or rewards of a decision are while incorporating ongoing changes such as hyperautomation that can impact variables at any point of business process. BRMSs and associate DMSs come in logic, code and workflow-based decision/rule models.

More recent DMS products have advanced beyond basic business rule management systems and provide better support the constant influx of new analytics and decision modeling outputs. Use these, or have third-party business partners like Cetrix apply these with BPM tools. ADMS is relevant for decision-centric applications that involve diverse data inputs, multiple calculations, thousands of business policies and rules, sophisticated algorithms and stakeholders with varying and even competing objectives.
Testing + Going Live. As you've probably been told, maximizing ROI involves adopting a long-term outlook, sufficient training and testing for truly end-to-end automation. Testing will come at several steps of the process, perhaps while modifying team processes and generating multiple process alternatives before engaging the automation mapping and build.
You'll then seek to combine both hard metrics and anecdotal data to uncover resistance and technical hurtles to adoption. For the latter, try a formal survey or questionnaire, rather than informal feedback. Even if your team is small, they will respect the time and opportunity to voice their whole opinion, while getting more acclimated to the idea of automation.
After going live, keep in mind that the ability to autonomously execute process steps or even complete processes is what defines automation. While the engine must be taught and as such requires a human-in-the-loop, with increasing hyperautomation, businesses can decide to run processes autonomously. This holds true for both IT Automation and business processes including desktop, web, virtual desktop interfaces (VDI), text-based data, email, IT, where human actions can all be fully or partially automated. ​
Follow this rubric to determine Hyperautomation next steps
Analyzing where a business stands in its automation journey, which can be a reflection of its overall digital transformation journey, can, in part, be performed by understanding to what extent its using the following checklist of tools:


BPA with RPA's - In instances where members of your organization are completing a high-volume repetitive tasks and these create substantial organizational bottlenecks, are you are using RPA's for greater speed, accuracy and transparency?
Building RPA's and other BPA tools with low or no-code development, automation workload for end-to-end task completion and iPaaS for systems integration
Creating adaptable and reusable BPA's that incorporate decision-making or display interfaces for access to actionable data, or business rules management software for operational precision?
Deploying any natural language processing, (NLP) optical character recognition and machine vision tools, or, more commonly, virtual agents and chatbots that rely on extended Machine Learning or AI capabilities?
Most companies will have the framework to implement these technologies or processes but even if yours does not, Cetrix specializes helping you play catch-up.


Enable your workforce through Automation


Hyperautomation will continue to be enabled by advanced machine learning and, in the future, will aim to build on its ability to learn human behavior while pivoting to the scaling and optimization of uniquely robotic approaches to processes. This will eventually make process automation more proactively agnostic and expand the tools beyond what's often process/task specific. Additionally, the tools will grow rapidly to be more diagnostic in determining what input it needs from its human counterparts to function optimally.
The core benefit will be a system of self-reinforcement and remediation that interacts with a human workforce in a more harmonious way. With the goal being true end-to-end automation, by blending self-learning (i.e. non-deterministic automation) with a transfer of knowledge from one domain to another. In the long term, this will force a reexamination of workforces and their role in an enterprise business focusing on end-to-end process completion rather than the execution of repetitive or even domain-specific tasks.
For truly difference-making automation that delivers significant returns across the organization, you need to combine several automation technologies.
Google Analytics 360 Suite Overview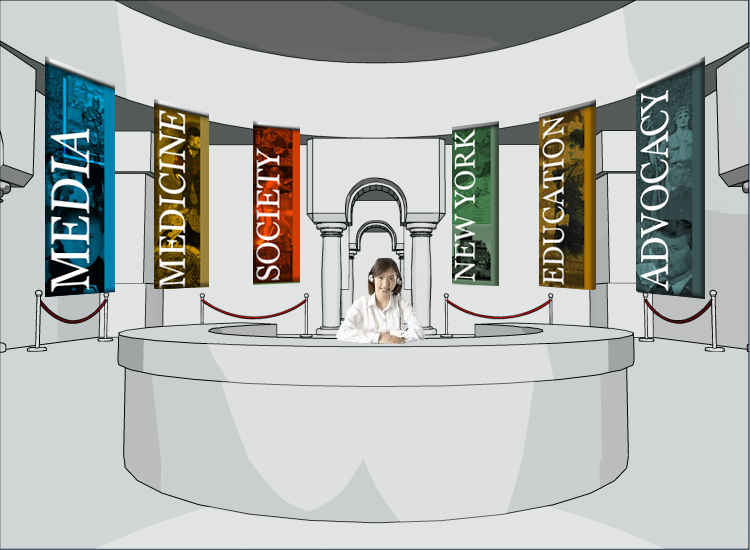 The Digital Transformation of Museums
Your customers expect you to have a deep knowledge of their business and industry. Download to find out how To Introduce Digital Transformation To A Museum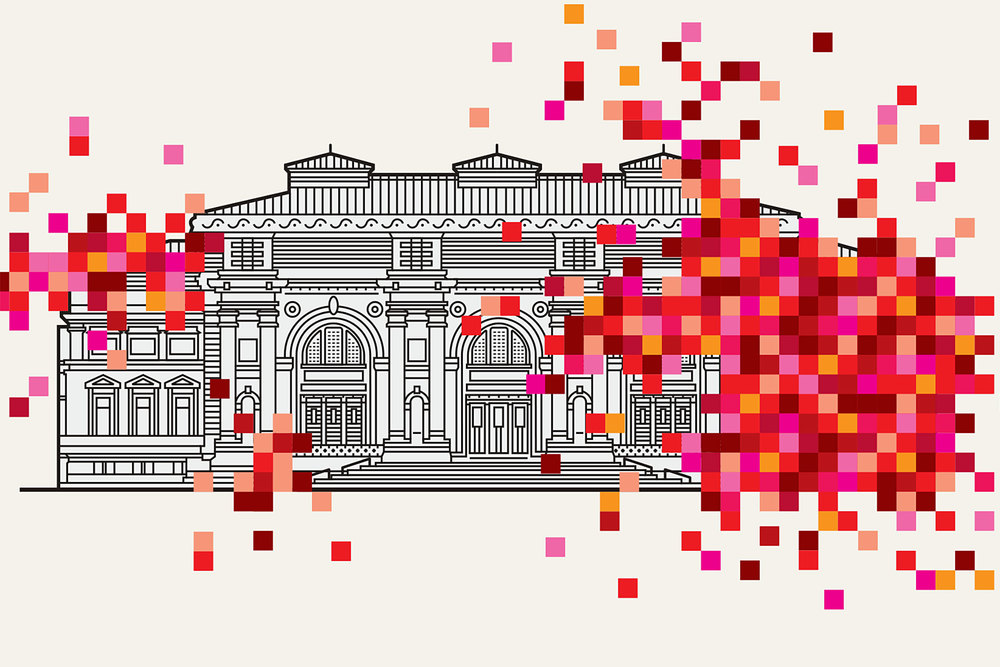 How To Introduce Digital Transformation To A Museum
Your customers expect you to have a deep knowledge of their business and industry. Download to find out how To Introduce Digital Transformation To A Museum